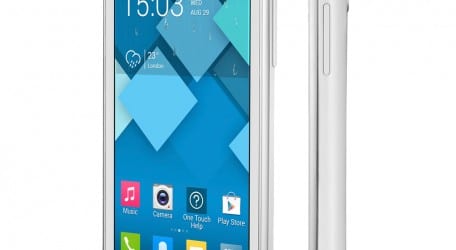 The Alcatel Onetouch POP C5 is now available from GO. Priced at €119, the device is also available for free to GO customers who are subscribed to the Limitless Flex plan.
The Alcatel Onetouch POP C5 boasts a 4.5 inch Full Wide Video Graphics Array (FWVGA) display screen which enhances the user's mobile web, movie watching and game playing experience. With a dual core processor, a 5 mega pixel camera and 21 mbps internet speed, the device comes with a range of popular applications already installed. A number of easy to use tools also enable users to customise their photos before publishing to social media. Simple navigation also forms part of the new user experience with users simply having to swipe to the left to access widgets or to the right to access applications.
Rupert Perry, Assistant Manager – Device Support at GO, said, "The Alcatel Onetouch POP C5 is a trendy phone which delivers a great user experience. It's also available for free to GO customers who are on a Limitless Flex plan through which one can make limitless calls to all GO mobile numbers for just €20 per month. Additional benefits include 300MB mobile internet and €10 credit which can be carried forward from one month to the next."
The Alcatel Onetouch POP C5 runs on the Android operating system, version 4.2 (Jelly Bean) with a Dual-core 1.3GHz processor. It has an internal memory of 4GB, of which 1.89GB is available to the user, 512MB RAM and a microSD card slot which takes cards with a memory of up to 32GB. The display is a TFT capacitive touch screen with 16 million colours.
Further details on the Alcatel Onetouch POP C5 and GO's Limitless Flex plan are available from all GO retail outlets and exclusive resellers, by calling Freephone 80072121 or visiting www.go.com.mt.