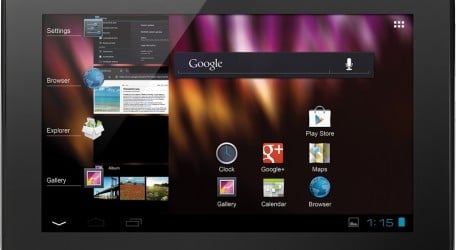 GO customers can now purchase the Alcatel Onetouch Evo7 for just €199. This tablet is also available for free to customers who are subscribed to GO's Limitless 35 plan, while those on pre-paid plans can enjoy 6GB of free mobile internet for up to 30 days.
Rupert Perry, Assistant Manager – Device Support at GO, said, "The Alcatel Onetouch Evo7 boasts a 7 inch display screen and internet speeds in excess of 21 mbps. The device also has a 4GB internal memory and a microSD card slot which takes cards with memory of up to 32GB. At a retail price of just €199 it represents great value to anyone looking for a good quality tablet. It's also a great free option for all GO customers on Limitless 35."
The Alcatel Onetouch Evo7 uses the Android v4 0.3 Ice Cream Sandwich operating system and has a 1GHz processor. Weighing less than 400 grammes, the device also offers Bluetooth, Wi-Fi & Wi-Fi hotspot connectivity. The screen is a TFT capacitive touchscreen which determines where the user has touched the device and delivers images and videos using 16 million different colours.
"Whether it's to share photos with friends, have a business video conference, read a book, or have access to the more than 600,000 apps in the Google Play store, the Alcatel Onetouch EVO 7 is an ideal device for anyone who wishes to enjoy all the benefits and freedoms a tablet provides at a very reasonable price," said Rupert Perry.
Further details on the Alcatel Onetouch Evo7 and GO's Limitless 35 plan are available from all GO retail outlets and exclusive resellers, by calling Freephone 80072121 or visiting www.go.com.mt.