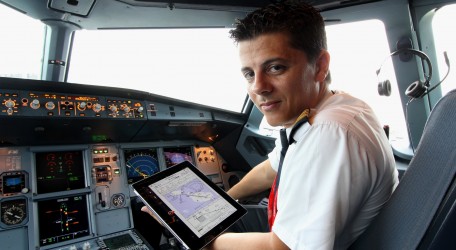 Pictured above: Air Malta's First Officer, Mark Attard, Technical Pilot Airbus
Air Malta has initiated a project to upgrade its 'Electronic Flight Bag'
devices in the flight deck with an Apple iPad based solution that will
provide pilots with one-touch access to up-to-date flight information,
charts, maps, and other crucial navigation tools. Air Malta will be one of
the first airlines in the world to use such advanced technology in the
cockpit.
The iPads, equipped with Jeppesen FliteDeck Pro, will help the airline to
transition to a fully paperless cockpit where essential information will be
available the moment it is required.
The system is intended to reduce pilot workload, increase situational
awareness in flight, lower operating costs through reduced fuel
consumption based on weight savings and help Air Malta reduce its
carbon emissions and become more environmentally friendly.
A typical paper based pilot flight bag weighs around 25 kilograms
containing thousands of pages of navigation, airport and runway charts,
operating manuals, reference handbooks, flight checklists, logbooks and
weather information. The removal of this weight from onboard each flight
will reduce the airline annual fuel bill. Further cost reductions will be
achieved through the supply of digital charts instead of the printed copies
for all pilots.
Eventually Air Malta pilots will also be able to download weather
information and submit flight reports through the iPad.
This project, which is split in four phases, is being coordinated together
with the Civil Aviation Directorate of Transport Malta through which
regulatory approval is being sought. A technical team from within the
airline's Flight Operations Department led by Captain Patrick Calleja,
Head of Aircraft Operations and First Officer Mark Attard, Technical Pilot
Airbus is implementing this project.
"Air Malta has always been at the forefront to provide its pilots with the
latest upgrades in flight planning and operational tools and systems.
iPads will give our pilots easy and faster access to more accurate
information. Having the best technology helps us make the best decisions
to fly more efficiently and arrive safely," said Capt. Mark Micallef Eynaud,
Air Malta's Chief Officer Flight Operations.
Commenting on this initiative Peter Davies, Chief Executive of Air Malta
said, "Our pilots fly some of the world's most technologically advanced
equipment. They, and all other airline pilots, have long relied on paper
navigation charts and manuals which clutter the cockpit with huge
volumes of documents. This project represents a significant step forward
for our pilots. We are equipping our staff with the best resources to
operate at the best of their abilities. We are proud to be one of the first
airlines in the world to introduce this technology in the cockpit."