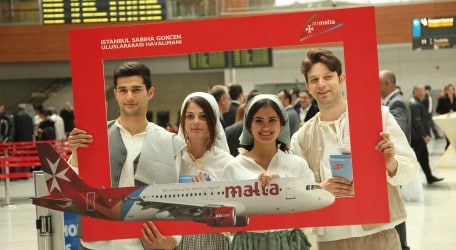 Air Malta has inaugurated flights to Istanbul's Sabiha Gökçen Airport after moving from Istanbul's other airport, Atatürk.
"Sabiha Gökçen Airport serves a growing and largely untapped catchment area within the Asian side of Istanbul and other cities to the south," said Philip Saunders, Air Malta's Chief Commercial Officer during a visit to mark the inaugural flight.
"The airport will provide us with more operational flexibility," he added, before cutting a cake with the management of the airport.
The airport, named after the world's first female combat pilot Sabiha Gökçen, is the world's fastest-growing airport serving more than 19 million passengers annually.
Sabiha Gökçen airport is situated on the eastern side of the Bosphorus strait and therefore forms part of the Asian side of the bi-continental city.
This airport is only 40 minutes away from the city centre by taxi and is served also by a variety of efficient transport modes including dedicated Express airport buses and public transport. A shuttle bus to the metro station nearby provides access to metro lines and the Marmaray tunnel that connects the two sides of the city underneath the Bosphorus.
Air Malta's flights follow last summer's schedule of three weekly flights every Monday, Wednesday and Thursday. Connections are available to other airports beyond, primarily within Turkey.
The historical city of Istanbul is Turkey's economic, cultural, and historical heart. Its attractions include towering minarets, underground Byzantine cisterns and steamy bathhouses.