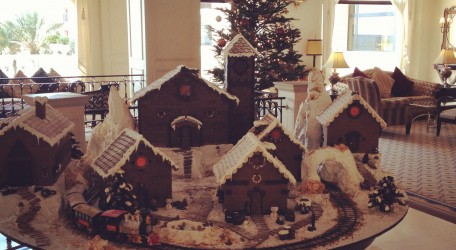 A sweet scent fills the air of the festively decorated lobby greeting guests of the Westin Dragonara Resort as soon as they enter the hotel.
Christmas spirit has entered the Resort and as part of the festive season traditions the Westin Dragonara has kept the tradition of setting up a themed Christmas centrepiece. Adults and kids alike are fascinated by the décor and the scent of this massive gingerbread village.
The carefully crafted gingerbread masterpiece is the result of one hundred hours of work, thirty kilos of chocolate, twenty kilos of royal icing, eighty kilos of homemade fresh gingerbread and a team of chefs putting their mind and expertise together to develop this unique village experience.
The gingerbread village features unique details that viewing is definitely a must. Executive Pastry Chef David Calleja and his team worked for days on this village – it comes fully set with a snowscape including houses, a church, trees, snowmen and a duck pond all set in gingerbread and chocolate. Besides a locomotive passing through the village, unique details which can be found in it and truly make it one of a kind.
The Westin Dragonara Resort welcomes everyone to visit the gingerbread village and also invites clientele to join the hotel`s festive celebrations. Numerous menus and dining venues are available to ensure a memorable experience. As a highlight of this year`s New Year`s Eve celebration in the newly refurbished Dragonara Point Ballroom the entertainment will be provided by the fun loving seventeen piece Big Band Brothers. For further information and bookings please call 21381000 or visit www.westinmaltaevents.com or send an email to [email protected] if you would like to organize a last minute Christmas staff party.