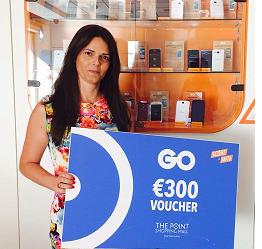 GO customers who are fans of general knowledge have until 13 July, to participate in the 'Score a MiTo' SMS trivia competition which has been running throughout the World Cup. The competition has so far featured questions covering the careers of Maltese personalities in football, music, art and literature.
In addition to the grand prize of an Alfa Romeo MiTO, GO customers including Malcolm Fenech, Miguel Ceci, Debbie Wareing, Michael Gauci, Alfred Gauci and Daniel Zammit have been winning €300 shopping vouchers from The Point every day. Two out of eight Samsung 40" LED HD Smart TVs have also been won.
The competition is open to all GO mobile customers who are 18 years of age and over and subscribed to any Pay Monthly or Pay As You GO plan. To participate, customers need to send an SMS to 5070 0300 with the word 'MITO'. Participants will then receive two initial messages. The first includes information about prizes and the cost of each SMS. The second message contains a trivia question. The participant needs to respond to the question by choosing one of two possible answers and replying with a simple '1' or '2'. Each SMS sent by the participant costs €1.20. SMS monthly bundles cannot be used in this competition.
Throughout the competition the participants can collect points by correctly answering up to a maximum of 30 trivia questions per day. Points are carried forward from one day to the next. A €300 voucher from The Point Shopping Mall in Tigne' Point is being awarded daily, including Sundays, to the top scorer of the day. During random World Cup matches during the competition participants can answer an instant win question or task. Participants replying to this will be eligible to win a Samsung 40" LED HD Smart TV.
The Grand Prize, a brand new Alfa Romeo MiTo, currently on display at The Point, will be drawn on 14th July from all participants who sent at least one SMS to 5070 0300 during the competition. The number of points accumulated through correct answers gives participants a better chance of winning any of the prizes. Winners will need to correctly answer a skill base question before being able to claim their prize.
As an additional service, throughout the competition, participants can opt to receive an SMS with results and scorers of their favourite World Cup team after each match. For each goal scored by their favourite team, participants will gain points and more chances to win the prizes. Customers can apply for the service for free by sending the name of their favourite team to 50700333. A similar way to accumulate even more points related to goals made by all remaining teams is also available. Customers can send an SMS containing the word 'ALL' to 5070 0333. In doing so all goals scored during the next 3 matches, including the match for the third place, will award more points. In any of these instances only one SMS per match is sent to the participant. The cost of each SMS received by the participant is €1.20. Should customers want to stop the results service, they can do so by simply sending the word 'UNSUBTEAM' to 5070 0333 free of charge.
If participants wish to stop participating in 'Score a MiTo' SMS competition and opt-out of the competition, they can do so simply by texting 'STOP' to 50700333, also free of charge.
For more information on the 'Score-a-MiTo' SMS competition customers can visit www.go.com.mt. Alternatively, customers can call GO customer care anytime on 146 for free from their GO mobile connection, or Freephone 8007 2121. Terms and conditions apply.