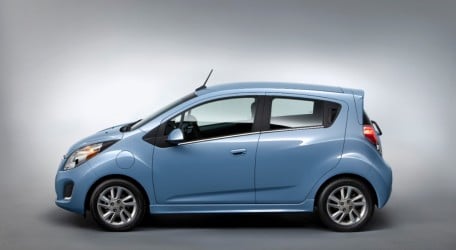 Chevrolet's city car challenges the conventional wisdom that little cars are either trendy or practical, either premium or good value. Spark changes the rules. It is as much about fun and fashion as it is about functionality. It offers style and all the latest in-car entertainment features as well as practicality, low consumption and low emissions. And at under €9000 it is great value for money.
From the outset, Spark was engineered and designed to be edgy and expressive as well as to offer exceptional levels of space and practicality. There are not many cars with such a small footprint that offer the benefits of five doors, five seats and a usable luggage area.
Much of the Spark's appeal comes from its styling. The exterior of the Spark features a 'wheels-out, body-in' stance, its single-arc roofline accentuated by strong, clean body sides free of cladding. The appearance is sleek, bold, and unmistakably more up-market than some of its mini car rivals. The revitalized appearance of this year's model takes this philosophy a step further, accentuating its sportier, more grown-up stance with a redesigned dual-port grille and front bumper as well as newly shaped fog lamps and head lamp housings. At the rear, the centre high-mounted LED stop lamp has been integrated into the spoiler above the window, resulting in improved rear visibility for the driver.
The interior design is just as edgy as the exterior. All the controls are backlit by ice-blue lighting when the headlights are turned on, further proof of Spark's ability to put the fun back into function. In-car entertainment is a matter of choice and Spark customers can enjoy their favourites on radio, CD, MP3 or USB keys or by plugging in their portable systems via USB or Aux-in sockets. Modifications carried out inside for the model year 2013 Spark include new decor elements as well as a remodeled centre console with enhanced storage.
However, it is not just its edgy styling that makes Spark at home in cities, towns and villages. Spark's size, handling and manoeuvrability are perfectly in tune with urban life. Chevrolet's mini comes in a compact package: at only 3640 mm long and 1597 mm wide, it will easily squeeze into tight spaces. Perfect for Malta!
Two engines are on offer  – both petrol units with displacements of 1.0 and 1.2 liters. They are closely related and use a cast-iron block and alloy head, with a double overhead camshaft and four valves per cylinder. They feature multi-port fuel injection and are both Euro V emissions compliant. Both engines come with a five-speed manual gearbox. Practicality is a big plus, too. The Spark may not be very big on the outside, but its clever design means it is able to make the most out of its available space. So get to the GasanZammit showroom in Mriehel as soon as possible to test drive this fantastic car.