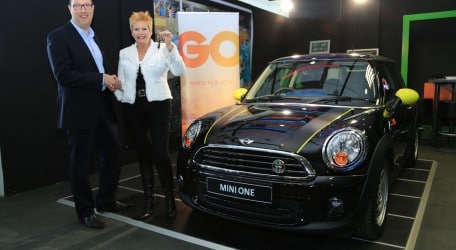 Patricia Richards from St Julian's has won a MINI One after taking part in the GO4MINI trivia SMS competition. Throughout the competition, GO customers had the opportunity to answer up to 30 trivia questions a day and collect points for each correct answer. Apart from the MINI One, other prizes included an iPad Mini every day over a two week period, a 42" Smart TV and a €500 Fuel Voucher.
The competition was open to all GO mobile customers aged 18 and over and subscribed to any Pay As You GO or GO Pay-Monthly plan. The daily winners of the iPad Mini were: Leonilda Bartolo, Mark Cini, Kataryna Ursula Jednaki, Rita Jaccarini, Juan Abela, Manolito Magri, John Brebner, George Bugeja, Pauline Schembri, Maurice Mifsud Bonnici, Anthony Farrugia, Carmel Borg, and Marcello Sallemi. The winner of the 42" Smart TV, meanwhile, was Jeannette Camilleri, while Moustafa Megawer won the €500 Fuel Voucher.
Speaking about the competition, Simon Falzon, Product Manager – Mobile at GO, said: "Throughout the year, GO runs numerous competitions which give our customers the opportunity to win prizes of real value. The GO4MINI competition is just one clear example of this. The whole idea of the competition was to involve our customers and encourage them to have fun, which they did in their hundreds.GO4MINI is another customer-driven incentive on our part and serves to enhance GO's customer experience. We take the opportunity to congratulate Patricia, and all our other winners too"
During a presentation held at Muscat Motors showroom in Gzira, the winner of the MINI One, Patricia Richards thanked GO for the outstanding gift: "I can't believe my good luck.  I have never won anything like this in my life and in fact when I got the call from GO I thought it was practically a joke. I am immensely grateful to GO for making it possible to own a MINI One. For me, it is indeed a dream come true."
"There's no doubt that Patricia will enjoy her new MINI One. At the same time, our iPad winners will be able to experience GO's fast mobile internet while Jeanette Camilleri enjoys GO TV interactive on her new 42" Smart TV," concluded Falzon.
–