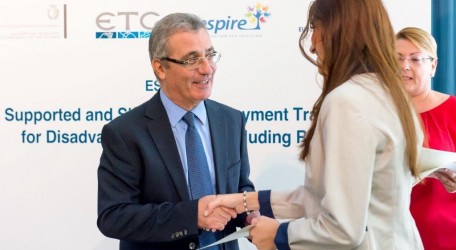 Pictured above: Rosalie Tanti, Call Centre Senior Executive, being presented with Vodafone's certificate of participation by the Minister for Education and Employment
Vodafone was one of the companies rfecently presented with a certificate of participation in the Sheltered Employment Training (SET) project. This project is aimed at persons with a disability who are currently not able to work in the open labour market. These individuals are receiving specialised training within the participating companies with a view to giving them particular skills that will increase their employability. This EU-funded project is being coordinated by the Employment and Training Corporation in conjunction with INSPIRE.
Vodafone is very proud to be participating in this worthwhile initiative. Training is being provided to SET Trainees in Vodafone's Customer Call Centre, including in the use of the computer system and in dealing with customers' telephone enquiries. Vodafone's participation in the SET project will continue and a further group of trainees will shortly be identified.