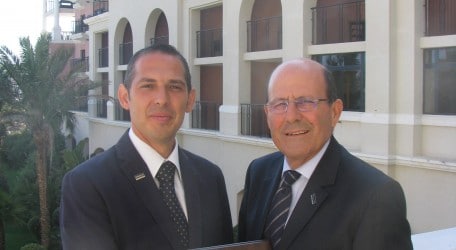 From left to right: Director of Food & Beverage, Jason Degiorgio being awarded the Starwood President`s Award by General Manager Michael Camilleri Kamsky.
Jason Degiorgio, Director of Food & Beverage at The Westin Dragonara Resort has been awarded the important President`s Award by Starwood Hotels and Resorts for his outstanding and remarkable performance during 2013.
The prestigious President's Award recognizes employees demonstrate exceptional or unique skills and achievements. Examples of notable contributions include exhibiting the confidence to succeed, going the extra step, playing as a team, and doing the right thing.
Jason Degiorgio, who joined The Westin Dragonara Resort in 2008, proved to be a strong leader with great communication skills, as well as a good motivational speaker. Being a respected and trusted leader, Mr. Degiorgio identified five associates with high potential whereby together with the Human Resources department, he worked on their career growth plan developing them into successful supervisors and managers.
His determination and hard work, including proactive and prompt action, resulted in a significant number of positive comments from the guests relating to their Food & Beverage experience. Moreover by taking effective actions, Jason managed to achieve a significant trim of Food & Beverage costs.
Mr. Michael Camilleri Kamsky, General Manager at The Westin Dragonara Resort congratulated Mr. Degiorgio on this award. "We are certainly very proud to have Jason on our team. Last year was a challenging year. Jason`s commitment and support contributed to ensure that we, as an important Starwood property, not only met our targets but even outperformed them. The 2013 President`s Award represents the recognition towards Jason`s outstanding performance and his ongoing efforts."
More information about The Westin Dragonara Resort as well as its food outlets can be found onwww.westinmalta.com