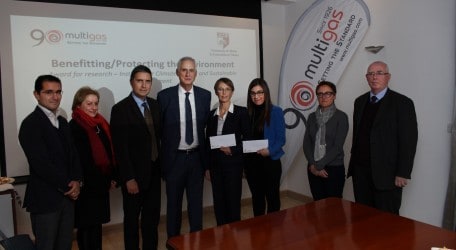 From left: Ing. Mark Asciak, Ms Anne Hersey, CEO Ing. Michael Mifsud, Multigas Director Mr Mark Miceli Farrugia (centre), award winners Ms Sara Hazzard and Ms Deborah Mifsud, Prof. Maria Attard and Prof. Saviour Zammit
Multigas Limited of Kirkop sponsored a dissertation competition themed on 'Benefitting / Protecting the Environment', as part of its 90th anniversary celebration in industrial gas manufacturing and services. Held in collaboration with the Institute for Climate Change and Sustainable Development of the University of Malta, the competition attracted 14 participants. The Institute's prime objective is to conduct inter-disciplinary research which supports and influences practical policy decisions affecting the environment and social logistics.
Through their choice of subject-matter, the three winning dissertations demonstrated their applicability to policy in three key, yet diverse, areas. The first prize was awarded to Ms Sara Hazzard for her dissertation entitled "Interrupting Habit – Car-Use Habit and Personal Norm combined: Implications for Malta". Ms Deborah Mifsud came second with her dissertation called: "The Role of Public Transport in addressing Sustainable Mobility for the Elderly Population in Malta", while Mr Johann Attard's work "Assessing Participatory Geographic Information Systems for the ecoGozo Initiative", obtained third place. The prizes consisted of €1,500 for first place, and €1,250 and €500 for second and third places respectively.
Multigas serves customers in the industrial and healthcare sectors with a complete range of atmospheric and special gases, equipment and services. The facility boasts a sophisticated cryogenic plant and associated gas management equipment that represents all that the company stands for in terms of health and safety considerations, customer convenience and environmental responsibilities. Furthermore, a close and long-standing collaboration with its strategic international partners reinforces Multigas's ability to ensure a robust supply chain of a range of essential gases to major clients.
The award presentation took place at the Multigas facility in Kirkop. Prizes were presented by Multigas Limited Director Mr Mark Miceli Farrugia in the presence of CEO Ing Michael Mifsud, University of Malta Pro Rector Prof Saviour Zammit, and the Faculty of Arts' Head of the Department of Geography and Director of the Institute for Climate Change and Sustainable Development, Prof Maria Attard, who managed the dissertation competition.
Mr Miceli Farrugia said that while all submitted dissertations were of a high standard, making the judging process quite a difficult one, the topics chosen for each dissertation endorsed the relevance and applicability of the studies undertaken by the Institute for Climate Change and Sustainable Development.
Ing Mifsud said: "We thought that the best way to celebrate the 90th anniversary of Multigas, would be to remind ourselves of the importance that protection of the Environment occupies within our strategic vision. We are very conscious of the need to continuously adopt the most evolved processes that make the best use of energy, while reducing waste. Our mission is to relentlessly seek and discover such opportunities."
While mentioning the fact that way back in 1926, Multigas, then known as L.Farrugia & Sons, was the first local company to produce carbon dioxide in Malta, Ing. Mifsud said that the company continues to embrace innovation in harmony with the environment. As a practical example, he mentioned the installation of PV panels at the facility, utilising pre-existing structures with the least visual impact.
Prof Zammit commended Multigas' initiative. He said that the University has the ability to produce excellent research that is applicable to industry. Prof Attard expressed the University's appreciation for giving both current and past students an opportunity to have their environment-related dissertations appreciated and recognised by industry. She emphasised that such initiatives serve to recognise academic excellence on environmental studies, increase awareness, and generate ideas that leave a positive impact on society.