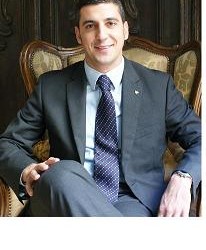 Infinitely Xara announces the appointment of Mr David Spiteri as the Group's General Manager.  Infinitely Xara are the owners and operators of the five-star boutique hotel in Mdina, The Xara Palace Relais & Chateaux, newly opened Xara Lodge in Rabat as well as operators of Palazzo de Piro Cultural Centre in Mdina.
David joins Infinitely Xara with over 12 years' experience in the hospitality industry including Gleneagles, Scotland and Hilton, Malta.  His most recent appointment, prior to joining Infinitely Xara, was that of Events Manager at EC Meetings, one of the leading DMCs in the Maltese industry.  At EC Meetings, David played a major role in overseeing the overall sales campaigns and operation of the German and Russian markets.
"I feel privileged to be entrusted with the management of Infinitely Xara, where, together with my team, I am fully committed towards the success of these outstanding properties," said David upon his appointment.
Welcoming David to his new position, Justin Zammit Tabona, Managing Director of Infinitely Xara stated "David brings with him a solid experience and we are confident that his wealth of hands-on expertise will be an invaluable asset to Infinitely Xara".