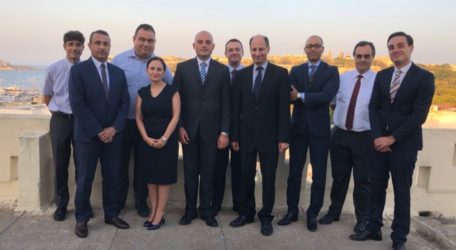 Pictured above: Paul Farrugia; Mark Agius; Christian Farrugia, Wendy Zammit, Kenneth B. Micallef, Karl Dingli, Peter Calleya, Anatoli Grech, Roberto Apap Bologna and Jean Paul Attard. Missing from photo: Joseph Bugelli, Kenneth Genovese, Adrian Mallia; and Joseph Ricca
Kenneth B. Micallef confirmed as President
Following the Annual General Meeting and first Committee meeting of the Institute of Financial Services Malta (ifs Malta), Kenneth B. Micallef was confirmed as President for another year. The Committee also welcomed Karl Dingli from BNF Bank as a new member.
The elected ifs Malta Committee for 2018-2019 is composed as follows: President: Kenneth B. Micallef; Vice-Presidents: Peter Calleya and Mark Agius; Honorary Secretary: Anatoli Grech; Honorary Treasurer: Roberto Apap Bologna; Members: Jean Paul Attard; Joseph Bugelli; Karl Dingli; Christian Farrugia; Paul Farrugia; Kenneth Genovese; Adrian Mallia; Joseph Ricca; and Wendy Zammit.
With a heritage of over 50 years, ifs-Malta is the premier provider of educational services for the banking and financial services profession in Malta. The Institute is at the forefront of promoting and fostering professionalism among financial services practitioners through the provision of an array of courses, ranging from short technical qualifications to Masters level degrees and through encouraging continuous professional development.  
 .