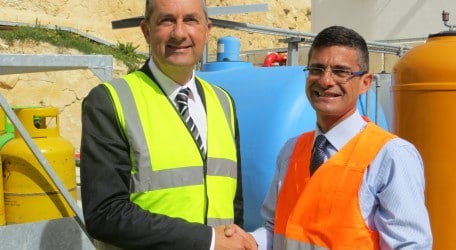 Pictured above: Gasco Energy CEO Paul Agius Delicata with Ing Edward Sultana 
Ing Edward Sultana has joined Gasco Energy's top management team after being appointed health and safety, quality and environment officer. Situated at Bengħisa, Gasco Energy is one of the most modern LPG sea importation terminals, storage and cylinder filling facilities in the Mediterranean region, which has recently added a new cylinder testing plant.
Ing. Edward Sultana graduated from the faculty of Mechanical Engineering, University of Malta in 1995. After started his career as a project engineer designing and constructing water purification systems, he joined the Metallurgy Department of the University of Malta as a research engineer. He conducted research work in conjunction with the University of Bologna focussing on the application of various surface treatments and coatings to tool steel intended to prolong longevity of moulds used in injection moulding. For the past 13 years he was employed at a manufacturing company specialising in injection moulding, where he occupied various posts within the project management and tooling department. During this time he worked within the framework of the safety management structure of the company.
Gasco Energy's CEO Paul Agius Delicata said: "Health and safety, quality and the environment have always been fundamental elements rigorously integrated within the operating systems of Gasco Energy's €23 million facility at Bengħisa. This new senior management appointment will bring to Gasco Energy the added benefit of many years of considerable experience and knowledge gained in setting up and operating advanced engineering systems."
Launched in November 2012, following a joint venture between Liquigas Italia S.p.A and Multigas Limited established in 2008, Gasco Energy's facility is one of the key energy assets for Malta. It has more than doubled the LPG storage capacity in Malta which now stands at 4,800 metric tonnes. The facility is equipped with the latest technology for fire detection and fire fighting.