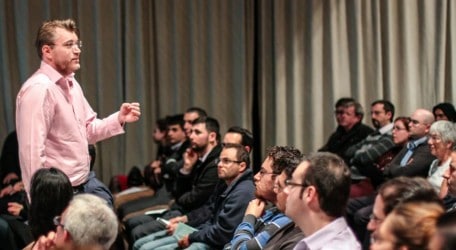 GO plc sponsored the recent visit to Malta of world renowned physicist Professor Vlatko Vedral. Prof Vedral spoke about his work on quantum physics and how it applies to biology and technology at Malta Café Scientifique, at the University of Malta's Valletta Campus.
Dr Edward Duca, who runs Café Scientifique, said, "Einstein himself dismissed the idea of changing an object without even touching it as "spooky action at a distance". But this idea is now a fact called quantum entanglement. Prof. Vedral's hypothesis is that as these quantum effects allow completely secure messages and super-fast computers, that the fundamental entity is not energy or matter, but information. This hypothesis challenges our concepts of particles, time, determinism, and of reality itself."
Professor Vedral is Professor of Physics at the University of Oxford and at the Centre for Quantum Technologies at the National University of Singapore. Vedral is also a Fellow of Wolfson College which is known for research of Quantum Information Theory and on the Theory of Entanglement. He has appeared on the Discovery Channel's "Through the Wormhole", and has written articles in New Scientist and a book "Decoding Reality".
Kurt Camilleri, Head of Marketing at GO plc, said, "Prof Vedral's thoughts on information are both fascinating and challenging. His presentation on how our understanding of the world around us is changing was certainly thought provoking. As a leader in technology and information services, GO has a keen interest in all areas of research and innovation that affect our understanding of information and we certainly learnt a lot from one of the world's leading physicists."
More information on Malta Café Scientifique can be found on Facebook: http://www.facebook.com/Malta.Cafe.Scientifique  and online: http://bit.ly/MCSCIweb