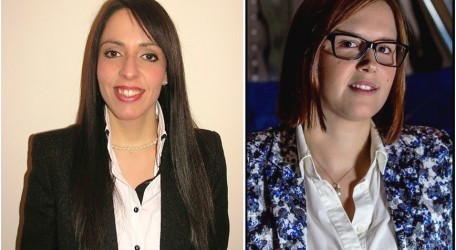 Women should be appointed to high managerial posts based on their own merits, and not simply because of a gender quota that needs to be complied with. This was stated by AIS Group Chairman, Ing. Mario Schembri, during the appointment of Christine Fenech and Ruth Debrincat Tabone in key senior positions within AIS Group (pictured above).
A certified public accountant, Ms Fenech, now heads the Group's Accounts Department. Having joined AIS Group two years ago from a leading Maltese beverage group, she speedily rose through the ranks at AIS and now manages the Group's financial multi-million portfolio. As part of her duties, she also manages the finances of GreenPak Coop Society Ltd, the national waste packaging scheme, one of the many clients of the Group.
Ms Debrincat Tabone heads AIS Environment project team, handling all the environmental consultancy projects. Holding a Masters degree in sustainable environmental resources management that complements her first science degree, she has co-ordinated a number of environmental impact assessments (EIAs) and environmental audits besides running the monitoring programmes and environmental permit applications for IPPC. Recent projects she was directly involved with include the Sicily-Malta interconnector project, air quality monitoring for Delimara Power Station, chemical and biological monitoring of inland and coastal waters, and ship waste impact assessment.
"We look at our employees as individuals aiming to achieve their full potential, and, therefore, their development within the group is irrespective of their gender, race or belief" said Ing Schembri. "Reaching the managerial hierarchy at AIS is a result of the individual's own merits, strengths and determination. Today half of the top posts at our organisation are occupied by women. This simple statistic is clear evidence that our Group's human capital policies are based on equality in every dimension, and is further proof that the principles adopted in the Group's Equality Mark certification recently attained  are  actually implemented".
The AIS Group of Companies is a multi-disciplined collection of organisations with interest in diverse but intertwined fields. Having evolved and grown from its humble beginnings in 1991, AIS Group is now made up of multiple companies specialising in engineering, environmental consultancy and archaeological monitoring.
AIS Group HR Manager Ms Odette Schembri added: "It is the undisputed wealth of expertise that we find in the team of great people we employ across the whole group that makes us so effective in delivering high quality work. Based on years of collective experience, these individuals are driven by the passion for their specialisation to make a positive difference.  These unified strengths bind us together and gives AIS Group the strength to win emerging challenges.