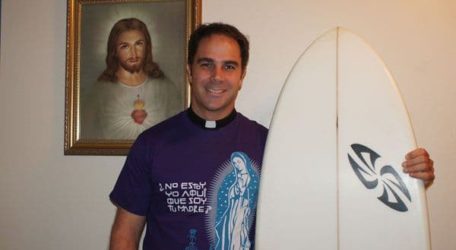 Divine Mercy, through the intercession of the Blessed Mother Mary, touched Donald Calloway's life. His story begins with a life devoted to finding the next party. This "surfer dude" was a high school dropout, a run-away, a druggy, in and out of rehabilitation centres, jailed, and was even deported from Japan for criminal activity.
Of course, church was completely out of the question during those rebellious teenage years. His church was the beach and his god was his surfboard. Through it all, like St Monica, his mother, LaChita, never gave up on him. She kept taking him back in, and she never stopped praying to Our Lady and Our Lord for her son, who she loves so much.
One night, in March 1992, he was hit with what Fr Calloway calls a "Divine 2×4". For whatever reason, he declined persuasions from his friends to go out partying. He decided, instead, to stay at home in his room. After a while, the stillness drove him to seek distraction. He perused a hallway bookshelf, where he grabbed a book that changed his life: The Queen of Peace Visits Medjugorje.
He began to flip through it behind his locked bedroom door (it being a book about religion, after all). It was full of foreign-sounding words like "Eucharist," "Blessed Virgin Mary," "Rosary" and "scapular". Something about this "Blessed Virgin" intrigued him, as did her message that she was sent by God as a mother to all, especially to sinners.
He also found a card in the book that read, "You don't have to change to love me; loving me will change you." And it did.
He fell in love with this heavenly mother who captivated him with her love and her tenderness. He writes: 'As I read, I knew I had to give myself to this thing Mary called "church". She always seemed to be leading or pointing towards it.
"I always imagined church as being oppressive, something that dominated your life and sucked all the fun out of life. I believed that was the role of the Church, so naturally I hated church, just like I hated Jesus. But if I was going to surrender to Mary, I had to believe her and give myself to Jesus and the Church.
"And even though I didn't verbalise it or speak it internally, somehow I knew I had to surrender to this Blessed Virgin Mary. She would help me to understand the real Jesus, the Jesus whom I never knew."
Early in the morning, when he closed the book, he said, "The message in this book is life-changing. I have never ever heard anything so amazing and convincing and so needed in my life."
Fr Calloway never looked back. He still loves surfing but is now a member of the Congregation of Marian Fathers of the Immaculate Conception of the Most Blessed Virgin Mary. He was ordained in 2003 at The National Shrine of The Divine Mercy in Stockbridge, Massachusetts, USA.
Fr Donald's journey, while not free from difficulties or crosses, rests in the peace that only God in His mercy can bring. He persevered through a period of preparation before he could join the Catholic Church, followed by discernment to join a religious order, and years of formation and education before being ordained.
"The road (for Fr Donald) has been long, with many a winding turn. But out of the darkness there was always the light of the Lord holding out His arms," Mrs Calloway said. "We must always hope in the promises of Christ and His unfathomable mercy. Blessed be God forever!"
Magnificat are holding a brunch on Saturday, 8 June 2019, at 10 a.m. at The Palace in Sliema. Mass will be followed by personal testimonies by Fr Calloway and his mother, LaChita.
Copies of his book, No Turning Back: A Witness to Mercy, will also be available. Book your seat by calling 2144248/79442468.