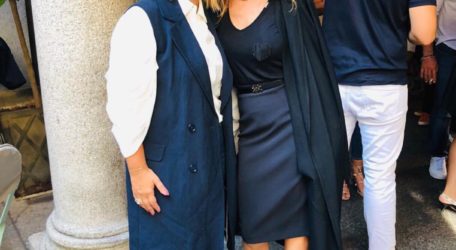 Another exceptional fashion show was presented by Elisabetta Franchi during the Milan Fashion Week. The Spring/Summer 19 Collection drew great applause from all the enchanted guests present. They were truly struck by the wonderful array of pieces and the bright yet elegant colours the designer has chosen for the season ahead.
Diane Izzo, CEO of the DIZZ Group was amongst the VIP guests present for this event. She was in great company and seated in the front row with TV personalities Alessandra Amoroso, Cecilia Rodriguez and Emma Mariani. Straight after the event Diane said "Elisabetta Franchi has once again created some beautiful items. I am absolutely certain this collection will be truly appreciated by the many Maltese clients who have grown to appreciate her stylish solutions. The Spring/Summer Collection will be hitting our stores in Valletta and Sliema in the coming months".  
Meanwhile, the Autumn/Winter 18 Collection is now available in both our stores. In addition, the 24/7 EF Bag Collection in Black and White is also available in the three variations of the model.