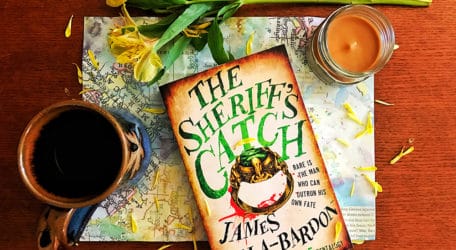 Following the publication of his debut novel 'The Sheriff's Catch' in the UK earlier this year, Sydney-based Dr James Vella-Bardon will be in Malta in September to attend two book signing events hosted by Agenda Bookshop and Merlin Library. The island's two leading booksellers have advised that these events are open to Malta's reading public and will include some interesting talks by distinguished members of Malta's intelligentsia who have warmed to James's novel.
'The Sheriff's Catch' is a red-blooded historical thriller which should appeal to fans of reads like Outlander, Poldark, The Pillars Of The Earth and A Game Of Thrones. It is the first instalment in a five-part series called 'The Sassana Stone Pentalogy' and tells the story of a Spanish Armada castaway in Ireland, the enigmatic and dangerous Abel de Santiago. A Spanish soldier who was born and raised in Malta, Santiago must survive countless perils in Tudor Ireland with the help of an Irish poet-bard and skilled tracker, the ollave Muireann Mac An Bhaird. 
James will also say a few words at the book signing events about his road to publication and his learnings over the last decade, where he hopes to exchange insights with published and aspiring authors and all other bookworms. He will also provide some lesser-known insights about the historical setting of The Sheriff's Catch and will take questions from attendees before signing copies of his novel.
Following its success on the Unbound publishing platform, leading digital book club The Pigeonhole and the 19th Golden Trailer Awards, 'The Sheriff's Catch' has also had a bright start in Malta. It recently claimed third spot on the Agenda Bookshop bestseller list and also received a prestigious local accolade when it was named the September book of the month by the University of Malta Library.
When contacted about the upcoming book signing events James said: 'I'd like to thank both Agenda Bookshop and Merlin Library for their kind invitation and for backing The Sheriff's Catch to the hilt. It's a great feeling to be appreciated in your own country. We Maltese are so passionate about the arts and I look forward to catching up with old friends and hopefully I'll also get to make a few new ones. The book signing functions should be great fun.'
The Sheriff's Catch is available for sale at Agenda Bookshop and Merlin Library and the reading public is advised of the following book signing dates:
: