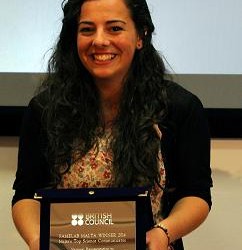 Maria Stella Portelli (pictured) was named the national winner of the FameLab competition and will represent Malta at the International Final at the Cheltenham Science Festival in the UK.  Supported by the British Council, FameLab is providing this young research chemist with the skills to share her research with a wider audience.
The winning presentation illustrated how most people have a well defined image of what scientists should look like which does not conform to the reality. Scientific data that proves how the public perceives scientists was presented while highlighting the need to rebrand science.
Maria Stella Portelli, a Biology and Chemistry graduate from the Univeristy of Malta, is currently working as a Research Chemist at Medichem Manufacturing Ltd. where she works on the development of active pharmaceutical ingredients.
Communicating science accessibly and attractively is an ever-growing priority for researchers worldwide. Organised by British Council (Malta) in partnership with the National Student Travel Foundation (NSTF) and the University Research Trust (RIDT), and with the support of the Parliamentary Secretariat for Research, Innovation, Youth and Sport, Microsoft, APS Bank, Vodafone, and Stage Malta, FameLab helps young scientists acquire valuable skills to communicate their work to a non-scientific audience. By doing so, researchers not only change the common stereotype of the scientist as "the geek in the white lab coat busy doing strange things", but also justify public funding for their research.
The FameLab Malta initiative is in line with RIDT highlighting the value and usefulness of science and research. RIDT actively seeks additional funds to further the advancement of research in all areas of study in Malta.
"FameLab aims to discover charismatic, up-and-coming scientists who inspire people to see the world from a new perspective…in just three minutes. This is directly linked to the British Council's aim to offer young people learning opportunities, help improve the quality of education and bring together current and future leaders to tackle issues facing society," said Ingrid Eomois from the British Council.
This was the second time that Malta participated in FameLab. The finalists had chosen a mind-expanding selection of topics to bring under the microscope – from the science behind Sleeping Beauty to revolutionising transport system with bicycles made of cardboard.
The three-minute presentations were judged by a panel of scientists and communication experts according to FameLab's golden rule – the 3C's: Content, Clarity and Charisma. The judging panel consisted of Ecologist Dr Sandro Lanfranco, lecturer Dr Kenneth Scerri and last year's FameLab Malta winner and lecturer Dr Owen Falzon. One of the biggest prizes for all finalists was the opportunity to attend a science communication master class led by Quentin Cooper.
The FameLab winners from all participating countries will compete in June at the International Final at the Cheltenham Science Festival in the UK. FameLab is an initiative of the Cheltenham Festivals started in 2005 in partnership with NESTA and has quickly grown into arguably the world's leading science communication competition. A partnership with the British Council since 2007 has seen the competition go global with more than 5,000 young scientists and engineers participating in over 23 different countries. NASA has license to deliver the competition in the USA. For more information about FameLab, please visit: http://www.famelab.org/