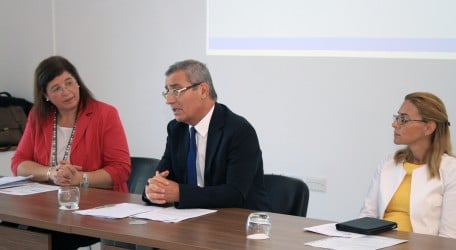 Back in 2003, the Foundation for Information Technology Accessibility (FITA), together with its partners, including the Education Directorate and MCAST, ran a pilot project delivering ICT training courses as part of its goal to address the digital divide and promoting opportunities for improving the quality of life of persons with disability.
Since then, FITA courses have continued to expand year after year both in numbers and diversity.  FITA's CEO Stanley M. Debono explained how, "Access to computers plays a very important part in providing independence for individuals with sensory, physical and learning disabilities. Using computers and the Internet, employees or students with disabilities are able of handling a wider range of activities and work independently on a level footing with their non-disabled peers."
FITA's courses are geared for persons with visual or intellectual /communication difficulties, so as to help expand their ICT skills and be able to contribute productively to the society and the economy.
Mr. Michael Micallef is the FITA officer evaluating ICT Accessibility Certification and is himself a blind person.  He said how 95% of persons with disability can use a standard computer, whilst 5% need special software and equipment.  However all of them  depend on technology products and services being designed to be accessible, otherwise all the equipment and training courses become futile, if the service still cannot be used independently.
FITA ICT Courses Overview
The FITA ICT training certificates being awarded cover sessions held between October 2013 and May 2014.  These courses were held at the ICT Institute at MCAST, St Theresa Girls College Mriehel, SIS Training Centre, ACCESS Victoriosa  and Santa Martha Day Center in Gozo.  The support of MITA, MCAST, and the Directorate for Life Long Learning was very important in this regard.
FITA's ICT courses coordinator  Mr. Leone Sciberras, confirmed that a total of 63 students attended FITA courses in 2013-4.  Out of these 58 are being awarded a certificate of attendance.  In addition to these there are another seven students with a visual impairment who successfully completed the FITA ICT proficiency course and will receive their certificate during the same activity.
He added that depending on need, ECDL examinations may allow for some extra time or support, but the examination level is standard.  Based on feedback received by FITA, five students managed to leverage their newly acquired ICT skills in obtaining gainful employment.
FITA is coupling the goals of students with information  obtained from the research on accessible use of ICT by Maltese industry, so as to enhance course content with the skill sets sought after by employers.  In line with this goal, FITA continues to support past and present students through its online services and dedicated courses, targeting the creation and manipulation of online content.
If you are interested in applying  for FITA ICT courses or wish for us to collaborate in creating new ICT courses specific to your needs, you may contact FITA on 25992178 or [email protected]