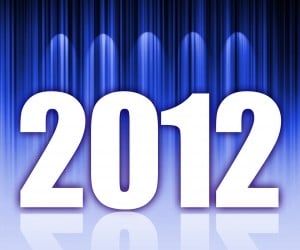 As this year draws to a close, here is a look back at the stories people were talking about, the satire which went viral and the catchphrases which will long be remembered from 2012
The grocer – When I woke up one morning to find my news feed replete with references to going to the 'grocer', little did I imagine it had something to do with politics.  But it did and from someone we least expected –  Simon  Busuttil's  suggestion to PN supporters to "stick up for the government at the grocer" was wrong on so many levels. It also ended up being one of the (unintentionally) funniest statements of the whole year, made even funnier because people believed the satirical article by Bis-Serjeta biss (Fight at grocer's leaves three people dead) was a true story.
Gangnam style – who knew that an unknown Korean singer named Psy would capture the world's attention with this catchy song and dance? Inevitably, parodies sprung up all  over the place and the latest to hop on to the trend was AirMalta which came up with this public service announcement. Problem is that now everyone expects to see these sexy dancing air hostesses every time they board a flight.
How's your inner goddess doing ? – If you haven't heard of Christian Grey and his room of pain, then you were probably hibernating in a remote mountain village for the last year. 50 Shades of Grey has now become known as the ultimate in Mommy Porn, as women for some reason which is still inexplicable to me, flocked to buy this trilogy. While thousands  swooned over the fantasy of Mr Grey and S & M bondage, my palpitations were due to the fact that something which was so badly written became a best seller.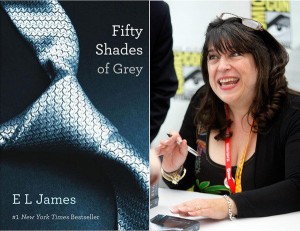 21/12/2012 – of course, the Mayan prophecy of the end of the world never happened.  The most bizarre thing about this prophecy is that people were posting statuses on FB in which they said "goodbye" to the people they loved, and I don't think they were being tongue-in-cheek.  Which simply proves yet again that, unless you say it on FB, apparently it doesn't count.
Shit Malta people say – The satirical video which went viral was the result of a bit of fun by a few people who have given a wickedly accurate portrayal of what is known as  "tal-pepe' English".  The guy who speaks volumes with just a lift of his eyebrow is the funniest of them all.
Whats' a 'cant wrapper '?– Vince Farrugia's curious turn of phrase in one of his SMS texts in reference to Sandro Chetcuti had everyone scrambling to figure out what he meant. The definitions ranged from the innocuous to the rude.  We never did learn what he meant by it, but personally, I think it means this…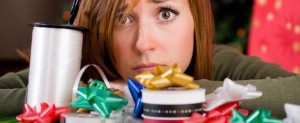 The bendy buses – I think the phrase "epic fail" must have been coined for our new public transport system. Never has such a product failed to live up to so much hype – and never was there such a disaster as the decision to introduce the bendy buses to a country where the roads were  definitely not built with these monsters in mind. "Spot the broken down bendy bus" became a national past-time, and it did not help matters when Boris Johnson made a joke at our expense for having lumped us with the buses which were even too big for London.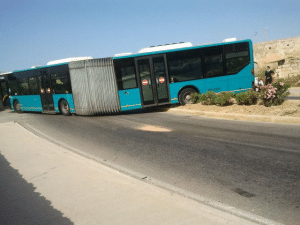 La Piccola Calabria – a restaurant which became famous for all the wrong reasons. When the owner unwisely posted offensive comments about Malta during the Malta-Italy match not only were people calling for a boycott of his restaurant but (in typical over-reaction) some were so livid they were after his blood.
Moral of the story: never use your Facebook business page to offend your adopted country.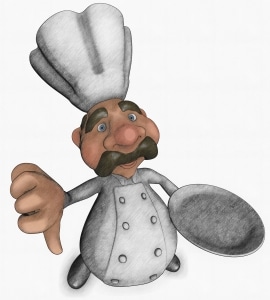 The Famous Five – Five brawny men sitting on the steps of the lawcourts dressed in what passes for "casual beach wear". They had just punched up some poor guy who was protesting against illegal boathouses, but it is the photo of them grinning like goons which will forever remain imprinted in our memory.  The slap on the wrist they got (a measly 60 Euros) fueled public outrage even more, leading people to cynically  comment that such a meagre fine was 'worth it' to punch someone up.  The photo was a satirist's dream.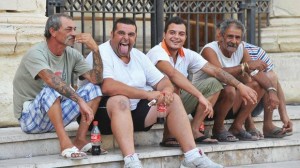 The battle of the billboards – or should I say, the best spoof billboards?  For me the best one was Joseph as the pizza boy, and that infamous PN billboard (which was ripped off to start with) which instantly became a meme.  Maybe it's time the political parties realised that the money they're spending on billboards is not really getting them anywhere.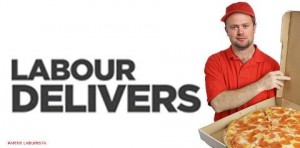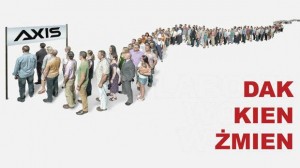 Mintoff –  a lot was written about the man, and a lot of hatred and adoration poured out in equal measures at his death. We will never agree about Mintoff which is why I once again turned to Bis-serjeta biss for their article (Last guy who didn't know who Mintoff was, finally gets it) to be the most fitting. To quote the article,  "He was also a hero, the devil incarnate, and father to us all, which will come as a shock to my Dad."
Parrots – I will never quite look at parrots in the same way again. After Lou Bondi kept insisting with Franco Debono to say "I want to bring down the government", Franco (who knows a potential sound bite when he spots one) retorted with the now infamous phrase, "Mela jiena il-pappagall tieghek?" (what do you take me for, your parrot?"
The Franco effect – it was the night we thought could never happen. Xarabank was cancelled! Who else could pull off something like that but Franco D who had gatecrashed what was supposed to be a debate between the deputy leaders. His defiant rant at the Where's Everybody studios was watched with a mixture of astonishment/glee/mortification – depending on whose side you were on.  The most popular wry comment on FB that night was "irrelevant? really?"
Someone get him a map! – Anglu Farrugia. Where do I begin? His bumbling performance on that  ill-fated Xarabank debate will probably become a classic in the history of TV political debates. As Labour supporters slowly banged their head against the nearest wall, he unravelled before our eyes, with the most memorable of his gaffes being when he said Colombia was in Africa. It all went downhill from there.
Yo' Mama – this crazy year ended on a typically hilarious note which seemed to come straight out of a sitcom. After Anglu Farrugia was asked to resign, his mother vented her feelings on Facebook, chiding Joseph Muscat as only a mama can.  While impressed at her being so tech-savvy, I really felt sorry for the poor man.  It's bad enough when you're a teenager, but when you're over 50, there's probably nothing more embarrassing than having your mother stick up for you in such a public way. So to Anglu, I dedicate this song:
Satire – Once again it has been a great year for those with a sense of humour and  satire on Facebook has thankfully flourished. Actually there were times when there was so much material begging to be spoofed,  it was hard to keep up. So thank you Satiristan (especially his incertament series), Mulej Hudni, Bis-Serjeta biss and all those who have brightened our newsfeed.  We look forward to more laughs in 2013!