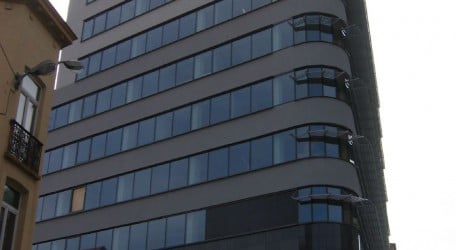 When I start smiling after just the first few paragraphs, I know that I'm going to enjoy a book.
Guzè Stagno's latest novel, What happens in Brussels, stays in Brussels is a smooth, easy read, even for those (like me) who cannot read in Maltese as swiftly as we do in English. With his acute ear for natural dialogue that seems to jump at you off the page, the book engages you from the start, as Stagno brings his easily recognizable characters to life – I found myself nodding more than once in agreement and thinking 'I know someone just like that'.
If, as the saying goes, 'the devil is in the details', then it is  Stagno's details which make this book the success I am sure it will be.
They say an author should write about what he knows and Stagno, now based in the Belgium capital himself, has skillfully captured his firsthand observation of the Maltese-ex-pats-who-work-with-EU-institutions lifestyle. More than that, he has bitingly portrayed those who (now that Labour MEPs are cushioned comfortably in their elected seats), have done a 360 degree turn and, without batting an eyelid, have boarded the gravy train.
But it's not just his sharp eye for characters and dialogue which makes this book so readable. Stagno has an uncanny knack for drawing on current political, social and cultural Maltese references, working them as analogies into his story with the casual ease of a natural born storyteller. In fact, his dry, ironic one-liners would be worthy material for a stand-up comedian. They are mostly voiced by the main character, a cynical journalist for a fictional newspaper called Maltanews who joins a group of Labour canvassers on one of those familiarization visits to the EU, who has been sent by his editor to interview the Labour MEP, Charlo Pulis (a purely fictional character, let us hasten to add).
In a slight deviation from reality, we are told that Pulis managed to win the sixth seat instead of Joseph Cuschieri, after hosting a successful programme on One radio during the time slot which was previously occupied by Joseph's brother Manwel Cuschieri.   Stagno's wicked sense of humour at its best.
The observations are little gems, encapsulating everything that makes up our multi-layered Maltese society, with our flaws and quirkiness. Those little things which make us somehow endearing and irritating at the same time – it is today's Malta; unplugged and exposed, warts and all.
There are so many of these brilliant lines that I find it difficult to choose just one as my favourites, but here is a small sample:
At the Labour HQ: "…taht il-gwarnic ta' Alfred Sant donnu qieghed jitqanzah tbissima at gunpoint.."
Describing one of the MEPs canvassers: "…il-qmis donnha mixtrija waqt xi trolley dash hames minuti qabel ma jaghlaq il-LIDL".
Describing the family situation of another canvasser:
"…dan it-tifel kien jismu Tyzone u kellu l-ADHD…kellu tifla…li isimha Gustav ma qabdux sew imma li deherlu li kien jixbah hafna l-kelma Ingliza 'cesspit'."
At a typical party for ex-pats: "Qishom qatt ma raw Twistees".
A question he would like (but has been forbidden by his editor) to ask the Labour MEP: "Allura ma thossokx daqsxejn tan-nejk illum il-gurnata Onorevoli Pulis, tpappija Brussell?"
Stagno's gift is that in a few sparse sentences he is able to paint a series of vivid portraits and situations, although there are moments when he seems to be resorting to the usual stereotypes. I think even he is aware of this though, because at one point he has one of his characters say: "stereotypes become stereotypes for a reason."
The political backdrop of the story cannot be overlooked: it is set in 2011, during what is deliberately described as the era of GonziPN when the Labour party and its supporters could almost taste that victory would soon be theirs.  Stagno namedrops with a casual insouciance (everyone from Franco Debono to Joseph Muscat and his 'revisionism' gets a mention), ensuring that his story is set in the reality of the partisan craziness with which we are all too familiar. He also describes to a 'T' the way so many Labour supporters nonchalantly swung from being anti-EU to embracing the EU  ("issa mhux hemm qeghdin?") purely because of their 'Leader's' say so.
More significantly, anyone reading this book 20 years from now will have an extremely accurate account of what Malta (and the Malta-away-from-home of the Brussels ex-pat community) is like. From the way so many people sprinkle their everyday language with the z-word, to the casual sex of one night stands during work-related trips.  Stagno also intuitively captures how so many low-brow Maltese have still failed to grasp that travel is an opportunity to broaden your mind (the group of Gozitans who want to go back to Munxar after the 'trauma' of being stuck in a lift is almost poignant in how true to life it is). Even reading about the embarrassing antics at the EU Parliament and on the sightseeing tours made me break out in a sweat.
The author fleetingly refers to the sneering attitude of some of those who have left to work with the EU, yet who still have this strange revulsion towards/attraction to the Rock they have left behind.  To be honest, I was expecting more of this aspect in the book (although perhaps Alex Vella Gera beat him too it with his spot on descriptions in Is-Sriep regghu saru velenuzi).
Still, that is only a minor quibble for a book which (unsurprisingly) is already flying off the shelves and was being ordered online in droves the moment it went on sale.
Merlin Publishers and Guzè Stagno have done it again (and a special mention goes to talented illustrator Jimmy Grima).