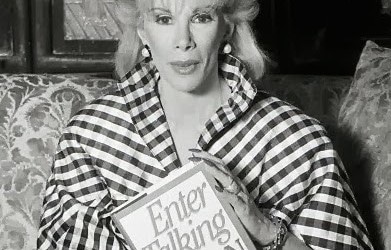 I'm a self-confessed celebrity watcher, probably due to the fact that my late father worked with the studios and used to bring me scripts of The Waltons and Bonanza to read before the actual episode aired, and (to my utter thrill) even took me once on twice "on set" to watch the filming. To say that I was dumbstruck with awe to actually see and meet the stars in the flesh is an understatement.
So, ever since I can remember, I have been fascinated by the lives and careers of TV and movie stars and my head is stored with this useless trivia which can come in quite handy in quizzes and crossword puzzles.  My guilty pleasure is watching E! Entertainment where I can catch up on the gossip and who's who in Hollywood.
This is why I happen to know that Joan Rivers, despite her longevity, had one of those up and down careers when she hit rock bottom more than once only to pick herself up and start over.
So  yes, despite her often acid tongue and the audacity of her bitchy humour which often crossed the line (her horrible statement about Palestinians "deserving to die" will be one of the black stains in the last few months of her life), I still have a grudging admiration for this comic legend.
After many years of doing stand-up in every conceivable venue, Rivers soared to fame when she was in her 30s on the Johnny Carson talk show, where she was a guest host for many years. She then went to another network with her own rival late night show (and was snubbed by Carson who never spoke to her again), only to be fired by the network when the ratings dwindled following disagreements on which direction the show should take.  In that cliche Hollywood statement so often directed at stars who bomb, she was told "you will never work in this town again".
Her manager husband had a nervous breakdown after she was fired and eventually committed suicide.  After a few dark years, she picked herself up and started stand-up again, and was eventually offered a daytime talk show. In an emotional tribute to her husband Edgar when she won an Emmy for her new show, she brought everyone to tears when she said:
"..it's so sad that he's not here, because it was my husband Edgar Rosenberg who always said, 'You can turn things around.' And except for one terrible moment in a hotel room in Philadelphia when he forgot that. This is really for him. Because he was with me from the beginning. And I'm so sorry he's not here today."
Because she was often so scathing and biting towards other people, it is obvious that not everyone is mourning her passing. But she was a comedian, and in her view, jokes are jokes and should not be taken so seriously. She pushed the envelope more than anyone of her generation and broke through a lot of barriers, both because of her gender and of her age. And let's not forget that the person she made the most fun of was herself.  In a business which reveres youth and good looks, she was always self-deprecating about her own lack of natural beauty, constantly referring to her countless plastic surgeries.
Joan Rivers was certainly not everyone's cup of tea, but personally, because of her story and the fact that she would not let the worst tragedy of her life beat her down, I just cannot help but like her.   The older I get, the less I have patience with people who bemoan their bad luck and continuously play the victim while I have a great respect for those who have the inner strength to get back on their feet, determined not to be defeated by what life throws at them.
We have different ways of coping and Rivers' way was the only way she knew how; she used comedy. Nothing was off limits. After , how many people would have the nerve to make this kind of joke?
"I told the audience, 'My husband killed himself and it was my fault,' " she said. " 'We were making love and I took the bag off my head.' "
She even built a standup routine around caring for a handicapped boyfriend.
"I lived for nine years with a man with one leg. One leg! He lost it in World War II. … He didn't lose it, he knew exactly where he left it. … [And] in my mind, that's littering."
In the end, making people laugh is a great ability and even as we gasped in shock at how far she would go for a reaction ("did she really just say that?"), I think it is fair to say that the red carpet will never be quite the same again.
So, Joan Rivers, thank you for the laughs and for always reminding us that no matter how bleak life seems, yes, you can always turn things around.