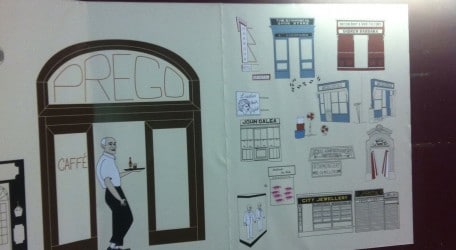 I hadn't been to Valletta in the evening in months so on Friday I was pleasantly surprised to find that it seems to have finally developed its own kind of nightlife with the armed forces band performing at the open air theatre and coffee shops and restaurants doing a brisk trade with their outdoor tables. There was a great vibe in the air – the way a capital city should be. The crowds have changed too, and I noticed a healthy mixture of people from all over the island, which indicates that il-Belt is slowly acquiring that much-needed 'cool factor' which is essential if we are ever going to see a Valletta re-awakening.
It helps, of course, that we are still enjoying balmy summer weather, but I hope this influx of people will continue throughout the winter too.
I liked the feeling of wide open spaces as I crossed the bridge which cuts through the bastions; now that all the boarding has been removed, we can see what the entrance to the capital really looks like and it is definitely an improvement to what was there before.  The new Parliament is still not my favourite building though, and after the feeling of freedom on the bridge, to have this huge chunk of concrete looming over you just feels too claustrophobic. We need more air to breath and wide open spaces in this country, but does anyone who is ever in power really care what we think?
Many have a love-hate relationship with the 'Piano parliament' as it has been dubbed, so trust sharp-eyed, quirky artist Nadine Noko to make physical use of the boarding which is shielding the ongoing works with a long stretch of her art depicting the Valletta that she knows and loves.  It is a great introduction to her exhibition, Two heads and a city, which can be found in one of the city's most iconic streets, Strait street, or Strada stretta as most of us still call it. There, in a huge old house, up a few flights of characteristically wide stairs, you find yourself in Noko's world.
Actually let me backtrack and rewind slightly. I 'know' Nadine through Facebook, one of those people you add on because they just seem to be so much on your wavelength and you realize you have mutual friends. So I have always enjoyed her wacky, at times self-deprecating and at other times 'self-important' tongue-in-cheek humour; her daily observations of life around us which make me nod my head in recognition of a kindred spirit.
The invite to her exhibition is as original as she is: an illustrated flip book which starts with just the top of her head revealing details of the event with every page. So I was eagerly looking forward to seeing her work, and I was not disappointed.
She obviously loves Valletta with a passion, and with the fond indulgence of a parent who knows their child is irrepressibly naughty but loves them to bits anyway, she exposes her beloved city for what it is. At times sophisticated and historic, at times earthy and low-rent, dotted by flamboyant, interesting characters whom she nails down to a T. I don't think it is my imagination that it is the latter type she feels drawn too, and I imagined her silently laughing at the petit bourgeoisie whom she sketches so skillfully – like the blasé matron seated in a Manoel Theatre box with a cat's face peeping from the bottom (the rest of the cat's body spills out onto the wall where the painting is hung – a clever tactic she uses in several other paintings). Then there is the hilarious 'spot a Valletta lawyer' sketch (which can be found on the Parliament boarding) – it is just brilliant.
The paintings are hung in a way to depict a typical day in Valletta, starting from early morning as people rush in for their jobs and appointments, to early morning Mass, a coffee at Prego, lunch at a café, the live evening music at the square and the Teatru Rjal audience blinking in the dark. They are all captioned with concise, witty phrases such as 'Egg mayo' for the Prego painting. Then there are the captions which I couldn't stop smiling at like 'Madam do you wanna ride my horse' for the Karozzin driver and 'Kemm aħna sbieħ min jaf jarana' on the painting of the gas cylinder man with a full-blown tattoo of the Madonna etched into his bare back. 'Kultant naħlef li narak għaddej' is a poignant tribute to people who have passed away and the holy pictures and eulogies which can often be seen on display in old shops.
It is in her depictions of the 'characters' however that Noko really reveals her artistry and ability to observe human nature. The various (obviously unemployed) men who seem to be virtual fixtures on the church steps and various squares around Valletta; the Lotto guy, his face obscured by a cloud of cigarette smoke; the weary, perpetually-in-cleaning- mode housewives gossiping across the balconies in the more down and out parts of the city.
Valletta, for Noko, is also the nicknames (James Dean ta' city) the fierce pride of the football team, and the famous innu tal-Belt which she has ingeniously played on a loop coming out of what looks like a red post box – as you peer through the slot you can see slides of Valletta's landmarks.
The influence of Japanese anime and other comic strips (she admits she was brought up on a 'high dosage' of them) is clear in her work, but Noko has created something uniquely her own. The title of the exhibition, Two heads and a city refers to the two perspectives of Valletta: the truth and perception. In her inimitable style, Nadine Noko has successfully captured both.
Two Heads and a City is located at Splendid, Strait Street (few doors up from Tico Tico) and is on until  29th October. Monday to Saturday 11.00 – 19.00 and Sunday 10.00-12.00
This project is supported by the Malta Arts Fund, V.18, Valletta European Capital of Culture and Farsons Group.