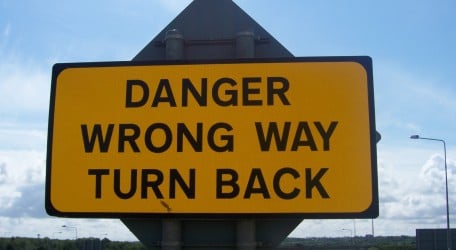 Did you hear that noise?
That was the sound of screeching brakes as the Partit Nazzjonalista halted in its tracks and manoeuvred a three point U-turn across a perilously narrow bridge.
In a statement issued yesterday by the conservative party, it is quite clear that the repeated calls from some of its supporters for the PN to change tack on civil rights have finally been heeded.  Of course, observers have not been fooled – it is quite apparent that the smell of elections is in the air, and that this is an attempt to mend bridges. The party's previous stubborn stand against divorce and its reluctance to speak about gay rights was hurting it in the demographic which holds the future of the party in its hands – the liberal middle class vote.
But now, magically, all that digging of the heels of the demo kristjani has vanished..now it's OK to espouse liberal views and the party has actually gone on record saying that it believes in the separation between church and state. On the one hand this is good news…this is after all the kind of Malta we want to live in.
But nothing in this country is ever straightforward; there are always
coldblooded, hard-nosed strategies involved and it is this calculated
cynicism which is causing more and more people to disengage from the whole political process. No one likes to be used, least of all minority groups who are bounced back and forth for political expediency. So while on the one hand members of the gay community may welcome the news that the PN is finally recognising their rights for their relationships to be recognised at law, on the other hand there are those who simply feel disgusted at the whole charade.
Why now?
Why now, indeed?
The whole thing is even more farcical when one considers how harshly the Labour party has been criticised – quite rightly – for trying to target specific interest groups for votes. I hardly think the PN can keep on harping on this particular point now (although you never know, it just might manage to successfully spin its spectacular U-turn to its advantage somehow). It will be interesting to see how this is all going to be explained to the staunch church-going Catholics who want the PN to remain as it has always been…firmly right-wing and unswervingly conservative.
When only a handful of votes can swing an election, it is easy to see why politicians are always searching for pockets of disaffected voters whom they can persuade and cajole. But seen from the point of view of the population all these political games are wearing a bit thin. People want to have a clear-cut idea about what each political party stands for, and if the PN wants to be anti-divorce and anti-gay rights, then fine, at least we know. But for it to suddenly change tack just because an election is looming is verging on the ridiculous.
It is rather difficult to take anyone seriously when they swing back and forth between two extremes on such crucial political platforms. In fact, guffaws of incredulity could be heard all over cyber space at the news.
Frankly, it all had to do with the timing. It would have been more credible had it been done earlier, for example, when the divorce bill was put to the vote in parliament. Had Gonzi back then bowed his head and said "I may not agree with divorce personally, but I will respect the will of the people" then we could have perhaps better accepted this change of heart. At this juncture, however, with the heat of election fever growing by the day, it all smacks of opportunism.
This afternoon I heard on the news that Austin Gatt went up to the podium at the PN General Council to loud cheering and clapping which ended up in a standing ovation. "It's so great to be a Nationalist" he was reported as saying. Yes, I guess for some it is. For this is what it is all about really isn't? Not whether the country will be better off, or who is better at governing, but who will be in power and who will be the winner who takes it all.
And there is no doubt that when it comes to winning elections, the Nationalists have the whole thing down to a fine art. All systems have already been put in place, and it's just a matter of fine tuning here and there.
As we have seen over the last few years with all the much-hyped projects that have never materialised, the Nationalist party may not be such great shakes at actually running the country…but when it comes to grabbing the votes required to keep them in that seat of power, no one, but no one does it better.
So, yes, in this context, the wooing back of the snubbed liberal voter was probably inevitable. If enough liberal votes are herded back to the PN fold, Muscat's PL will be in serious trouble. Couple that with a Labour party which is still floundering around when it comes to concrete policies, and which continues to make substantial image mistakes,and it is starting to look like Austin Gatt's forecast might come true after all…Malta will continue to have a PN government for another 20 years.
Great, just great.