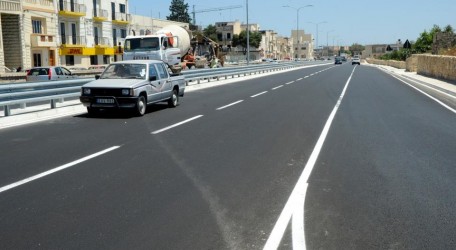 In third world countries, the "leader" makes sure that the "people" know every time something is "done for them". The government erects massive billboards to announce the "achievement", it issues long-winded statements to the press and it organises  pompous ceremonies which are covered religiously on State television. Then there is the obligatory plaque, of course, to commemorate the undertaking so that in years to come the name of the leader will be remembered for posterity.
If all this sounds depressingly familiar, it is because in these matters, we (unfortunately) still harbour this kind of third world country mentality.
The PN has proved this point by circulating a photo of the ironically named Triq l-Ewropa (pictured above) which took two years to complete, caused massive disruption to anyone living in the area and required anyone going to and from the airport to take long, frustrating detours.
Yes, of course, everyone is relieved that this stretch of road is finally finished, but to use it as a way of trumpeting this administration's achievements is mind-boggling.  People commenting on the photo have pointed out that it is not completely finished, and that only half of this long road has actually been resurfaced. Others have noticed that the workmanship is no great shakes either.  Of course, these complaints have caused those who are pro-PN to bristle with indignation, because (apparently) we are all supposed to shut up and be pathetically grateful for this blessed road.
Why?  Frankly, I don't expect it to be "news" every time a road is resurfaced or finished off well. It should be taken as a matter of course that we have a good road network everywhere and not just where there are the main arterial roads. Even tiny little backstreets and alleys should be smoothly finished with proper drainage,  etc.  Should this really be brain surgery in such a minuscule country?
After all, that's what we pay taxes for, to have decent infrastructure.  I would say that ALL our roads should be like this, and it should all be done without any fanfare.  Is that too much to ask?
Apparently, it is.