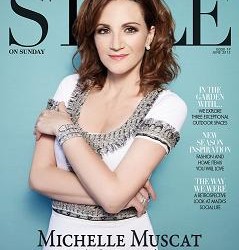 Michelle Muscat's decision to do a photo shoot for Style, a glossy fashion magazine, was met with derision and scathing remarks by some, and by open admiration by others. Of course, the reaction all depended on whether you voted Labour or not (mhux ovvja? Everything always boils down to that it seems). To be fair, there were some who liked the photo shoot irrespective of their politics, but I also read comments of pure visceral dislike towards the lady in question which startled me with their sheer nastiness.
While featuring "the wife" in a magazine has been done in the past (Kate Gonzi appeared quite a few times) this time it was different. Whether it was her decision or that of the editorial team, I feel Mrs Muscat should not have accepted to pose the way she did because it smacked too much of trying to look like a fashion model. What particularly jarred on the front cover was her conscious display of the expensive designer watch, in what looked like an obvious promotion (duly mentioned in the credits and supported by an advert). It looked unseemly.
Her role as the Prime Minister's wife should be above such things. Many people do not agree with me, seeing absolutely nothing wrong with it and were fulsome in their praise of how great she looked. I am not disputing that – she does look great. But like many other things which are difficult to explain, to me the concept of the photo shoot (plus the photoshopping of the images) just seemed wrong.
The only photo which looked natural was the one with the twins where we could see the real Michelle, obviously happy to be with her girls. That's how all the photos should have been, portraying an elegant woman who loves fashion, but someone who is real and not a mannequin.
If you look at Michelle Obama, who has appeared on countless covers, you will note how natural and at ease her poses are. You can tell that that is who she is.
Are these things really that important, some might ask? Yes, I think they are, and I'm not nitpicking here.
As the PM's wife Michelle Muscat should be more careful about the message her public image is conveying. What kind of woman is she? What really matters to her?  Even if it was not her intention, that photo shoot seems to portray someone who is much too concerned with frivolous high-end fashion, especially as it came hot on the heels of that cringe-inducing invite to the fundraiser at Girgenti "for the high society".  (She should have checked the wording since her name was attached to it).
These types of misguided and badly judged PR decisions are especially unfortunate coming from a Labour administration which has always campaigned in favour of the underpaid, exploited working class.  They seem to point to a team surrounding Michelle Muscat who are cut off from the real world of you and me, but who are more concerned with the fashionista circle.
And if you still think I'm nitpicking I invite you to read this article about Michelle Obama and how her choice of dress "sent a message".