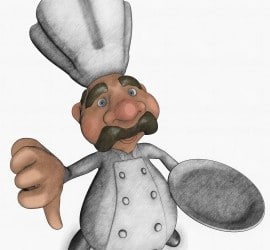 Don't get me wrong, I get annoyed as the next person when someone criticises Malta and the Maltese (only we are supposed to do that OK?)
But while the Italian owner of the restaurant La Piccola Calabria  has justly earned the wrath of the most of the population for his offensive comments about us on Facebook* during the Malta-Italy match last night, I do think we are over-reacting ever so slightly.
I'm as patriotic as the next person, but it seems to me that the calls to boycott his restaurant were not enough for some people. They want – it seems – his blood. This is one of those traits in my fellow nationals which just leaves me shaking my head as I experience one of those "I just cannot relate" moments.
I really do think I need to check out my DNA.
Why all this fury? Why all this gnashing of teeth, shaking of fists and snarling at this guy? Why can't we just laugh off  his idiotic behaviour and turn it into satire, showing it up for the absurdity that it is?  Comics could have a field day on this incident alone, and I'm fully expecting Alan Montanaro from Panto and Sander Agius from Zoo to write it into their next scripts.
For what entrepreneur in his right mind, who has a business to run, would insult the very customers he needs to keep his restaurant profitable?
But there is something in this hot-blooded nation of ours which simply refuses to let something go. Too many people are incapable of rising above an insult;  as we say in Maltese "iridu s-sodisfazzjon".   I noticed this during the tiresome debate which went on between the "Mintoff was a bastard vs Mintoff was a Saviour" factions.     It was not enough not to agree with it or to ignore whatever upset them – no, people went ballistic and actually ENJOYED sharing the very comments which were making their blood boil.  Gesu giez.
"He thinks we are inferior" people were wailing all over FB last night about the Italian chef. But hold on, do you feel you are inferior? If not, why should this one man's opinion matter?  Frankly, this superiority/inferiority complex thing when it comes to foreigners can only work if we buy into it. Rise above it, retain your dignity, is my advice…but obviously, that's not what people want to hear. Rising above it does not quite work when someone is twitching for a good punch-up.
As a country, we enjoy and relish confrontation, period.
No wonder new blogs such as that of Franco Debono's have skyrocketed through the roof on Alexa.com – he is clever enough to know that people love nothing more than a good slanging match, preferably by picking a target and lashing out at him/her with gusto.
Quite clearly, I am in the minority on this – so I will just sit back and observe the show until something new comes along which triggers our national angst or wounded pride.
Meanwhile, if there are any rotten tomatoes left over from that cancelled tomato fight, I know this place in St Paul's Bay…
*FOR THOSE WHO MISSED THE EXCHANGE HERE IT IS:
Lapiccola Calabria ITALIA 1 MALTA 0…………….E VAIIIIIIIIIIIIIIIIII FORZA CAMPIONI FACCIAMOGLI ALTRI 10 GOAL. DIAMOCLI UNA LEZONE DI CALCIO……ANDATE A RACCOGLIERE PATATE MALTESI LASCIATE PERDERE IL CALCIO NON E' COSA PER VOI
3Like · · Unfollow Post · Share
Julie Penzer likes this.
Tony Camilleri Se non erro' lei sta quadangniando da vivere, do noi piglia patate.
33 minutes ago · Like
Lapiccola Calabria SE NON VENIVAMO NOI ITALIANI A PORTAR QUA I NOSTRI SOLDI E LA NOSTRA INTELLIGENZA EIMANEVATE ANCORA ARABI BEDUINI IGNORANTI………ORA SE HAI ANCORA VOCE VAI A CANTARE LE TUE CACATE arabooooooooooooooooo
See Translation
31 minutes ago · Like
Tony Camilleri Mia madre e italiana e credevo fino a adesso, che gli Italiani, erano gente educata, ma sempre che Voi Calabresi siete ancora Saraceni.
16 minutes ago · Like · 3
Lapiccola Calabria E CI VANTIAMO DI ESSERE SARACENI PERCHE' AABBIAMO PORTATO LA CIVILTA' VOI INVECE SIETE RIMASTI ARABI………MI DISPIACE PER TUA MADRE CHE HA UN FIGLIO COME TE CANE ARABO
See Translation
13 minutes ago · Like
Tony Camilleri Non mi degnio neanche di rispondervi. Io sono stato molto educato con lei, perche mi piace di sapere che lei invede di morire di fame, siete venuti qui per poter mangiare una paniotta. E adesso buona notte.
8 minutes ago · Like · 1
Lapiccola Calabria IO LA PAGNOTTA L'HO PORTATA A VOI MORTI DI FAME………………..IO NON FACCIO IL PAGLIACCIO COME TE PER MANGIARE…………..IO POSSO GODERMI LA VITA SENZA LAVORARE E SAI PERCHE? IO SONO INTELLIGENTE E COLTO. TU IGNORANTE E PAGLIACCIO