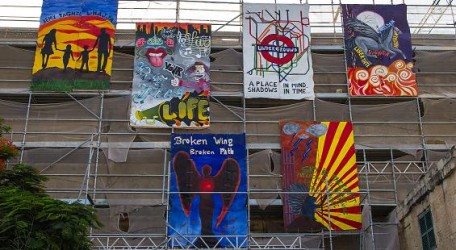 I have attended my share of art exhibitions, but I recently attended one with a difference.
If you are passing by  St James Cavalier, take a look upwards at the facade and you will see a number of very large pieces of art which were created by a group of young men who are serving time at the Young Offenders Unit Rehabilitation Services (YOURS).  The exhibition is called Tpingija Pingejna and has been described as one of the largest exhibits ever put up.
Tall, slim and gangly, and looking heartbreakingly young, it is hard to comprehend that these are young men who have broken the law.  Yes, some are covered with tattoos and piercings, but if you look beyond the ink and the earrings, it is soon clear that these outward signs of machismo and rebellion are simply an attempt at bravado.
This initiative by three educators named Olivia Deguara, Carmen Aquilina and Kristina Borg gave these young men the opportunity to do something positive;  to pour their imaginations onto a canvass and express themselves through art. It is probably the first time in a long time that they were receiving attention for doing something right, rather than for doing something wrong.
It was not just about splashing paint onto a canvas however. "The youngsters were encouraged to go through the process of discussing and exploring their ideas…they were challenged to create, think, imagine and perceive…"
The assorted family members looked on proudly, and I could see in their faces a flash of relief and hope that maybe this will be a turning point in the lives of their young men.
Young offenders need to be given a second chance, I firmly believe in this, and any creative  programmes such as this which can tap into their potential rather than focus on their transgressions can only be a good thing. The young men all come from different backgrounds and even different nationalities, but from the look on their faces I saw a common thread: they all yearning for someone to give them guidance and a sense of direction.
Worthwhile initiatives such as this one by St James Cavalier is a very important first step on the right path.  The project is also supported by Il-Premju tal-President għall-Kreattivita`.