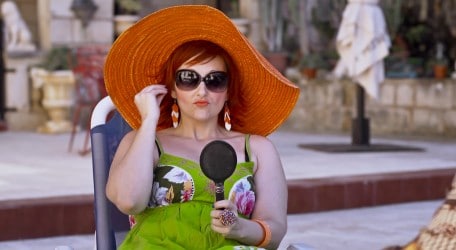 She has created one of the most memorable characters on prime TV – the brash, brassy Gladys on Deceduti.  But she also proved that she has the ability to to re-invent herself as a completely different character, with the fumbling, lisping and endearing Mariella Tpaxxi u Tghaxxaq on Min Imissu.
Maruska Mallia speaks to Josanne Cassar about how she created these characters and what's in store for fans with Deceduti – the movie
"I started acting on stage at the age of 14 and was involved in many small productions throughout the years," Maruska tells me. She then decided to try acting on television and attended some courses which were specifically for TV, a decision which helped kick start her acting career.
"I was involved in other Maltese productions such as Mirjana Coljero and L-Evangelisti before Deceduti. When I found out that Take 2 were auditioning people for Deceduti, I was so excited, and I wanted to be a part of it with all my heart. I remember my heart pounding until I got the good news that I made it, because it was quite a long process." In fact, it took no less than three rounds of auditions.
Maruska has always had a knack for comedy – she admits that at gatherings with family and friends, she's always the one cracking jokes. "It has been like that for as long as I can remember; I enjoy seeing people smile. However, when it comes to acting I love playing any role, not just comic ones."
So how was the character of the sensual, outspoken, in-your-face Gladys born?
"The creators of Deceduti gave me a few guidelines of what they imagined Gladys would be like, and then the character was strongly developed as the series went along. It was an amalgamation of a very good script and a lot of improvisation. The original plan was that Gladys would change her mood or personality with each wig, but we got very good feedback from one particular personality and we decided to keep it that way."
I have to confess: I am a Gladys addict.  There is something about this loud, earthy character which I find riveting; she has this raw sexuality which she is not afraid to flaunt and a direct bluntness as she says exactly what's on her mind while staring people down with her flashing green eyes.  Who else can get away with telling a guy on their first date that she wants to be friends with him, "but friends with benefits", and making it sound funny rather than merely slutty?
Maruska clearly has a great time playing the part too.
"Yes, I love playing Gladys, because I get to say and do things that I normally wouldn't. Before Deceduti I used to use the voice and certain mannerisms I use for Gladys in jokes,  my friends loved it and it really used to make them laugh. But I never imagined Gladys would become so popular. I think that people in general love Gladys because she is a free spirit and is very sweet in her own way. I suppose it might be easy to assume that the character one sees on television is real, so sometimes it does happen that people expect me to be like Gladys in real life," Maruska says with a smile.
In fact, the first time I watched Marsuka being interviewed on TV, I was surprised at how low-key and quiet-spoken she is "in real life".  Of course, that is the trademark of a true actress; when she can transform herself into someone so utterly unlike her own personality. But if people thought that this lady only had one character up her sleeve, they were wrong. It is often difficult to create someone as popular as Gladys and then leave her behind to branch out into a role which is completely different.  However, Maruska proved her versatility when she gave us the fumbling, lisping presenter Mariella Tpaxxi u Tghaxxaq in the comic variety show Min Imissu.
"I wanted to play a complete different role from Gladys, as a challenge to myself. The first time I played Mariella was actually in the Deceduti audition."
There were those who criticized the producers because they felt the Mariella character was making fun of those with a speech defect, but Maruska does not agree.
"No, we are not making fun at all! The character of Mariella was very loveable and endearing. She was never belittled and was loved by audiences. I think Mariella in fact created the direct opposite effect , giving the message that it is OK to be different."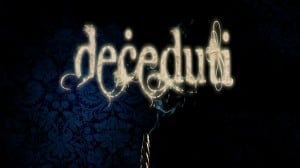 The Deceduti series was a huge hit with TV audiences who embraced the wacky concept of ghosts who have died during different eras coming back to haunt the Palazzo (now a block of flats) where they died.  The flats are now inhabited by modern day characters who are all going through different domestic dramas: from a henpecked husband with his nightmare of a nagging wife, to a young woman who is hell-bent on marriage but whose boyfriend keeps getting cold feet. Thrown into this mix is Gladys, an assertive, no-holds-barred single woman on the prowl who throws herself unashamedly at any eligible bachelor, and who finally lands herself a meek doctor.
Turning the popular series into a feature film was probably inevitable – but Maruska is careful not to reveal too much about the plot.
"However, I can assure you that it is going to be really worth watching! I shall be playing both Gladys and Mariella and I'm loving every second of filming."
Because it is impossible to make a living from acting in Malta, actors always have to take part in TV or theatre as something "on the side", after their day job. In real life, Maruska is a full time receptionist who works in customer care.  The long hours of filming after work are something she takes in her stride.
"I make it a point in my life to find time for everything I love. Acting is very important to me but I also dedicate a lot of time for my parents, my sister and her family, especially my nieces. Sometimes I'm not sure how I manage, but I guess doing things I love and being with the people I love gives me motivation and energy," she adds.
Deceduti – the movie will be coming out at Eden cinemas in late December