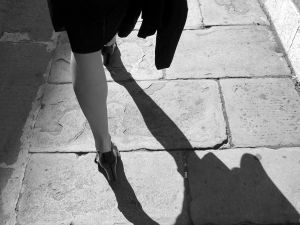 The recent disappearance of two foreign teenage girls caused a whirlwind of speculation and rising hysteria among the public, particularly parents.  Even though the two cases (one of which, sadly, ended in tragedy) ultimately had nothing to do with human trafficking, there is still a lot of cause for concern.  Josanne Cassar speaks to REBECCA SWEETMAN, Executive Director of The Paradigm Shift Project who has tackled this issue in different countries and within a wide range of cultures, through various documentaries*.
It is easy to understand why the public imagination went wild when the two teenage girls, Polina Rahman and  Agnes Revesz went missing within a week of each other last month.  The presence of so many East European women working in gentlemen's clubs has often been in the news, particularly after a story came to light earlier this year of women being locked up and forced into prostitution.   Even before this story had come to light, Malta had already been placed on the watch list for human trafficking.
On a local level, Maltese girls who come from dysfunctional backgrounds or who are drug addicts are also at grave risk as they are sucked into this underworld of soliciting.
"In our interviews, we were focusing on activities that are preventing trafficking," explains Rebecca Sweetman. "The majority of NGOs I worked with agree that the more high risk youth populations are generally economically marginalized (and often socially marginalized as well), they suffer from a lack of education and access to education (especially on their rights and how to protect themselves), and often times are unsupervised due to working parents/grandparents.  But the push-pull factors are quite different depending on the country due to varying cultural factors (i.e. dowry, caste structure, Buddhist notion of gratitude, consumerism, etc.)"
What can a country like Malta (through its NGOs and other organisations) do to create more awareness?
"In-school education programs are essential to educate youth (not just girls; boys are victims of trafficking, too) on their rights and how to protect themselves, but for youth without access to education, depending on their age, alternative education programs and job training programs seem to be quite successful at both empowering youth to know their rights, while giving them practical skills and employment opportunities to make them less socio-economically vulnerable to trafficking.  Other successful NGO programs include drop-in centres for youth, as a safe space where at-risk populations can seek help if need be, while also gaining a broader community of support. Another area NGOs and other organizations can address is in the justice system, through legal advocacy programs for victims, and sensitivity training for law enforcement officials and judiciary to recognize that a person who appears to be a prostitute may in fact be a victim of sex trafficking.  I've seen programmes addressing trafficking from so many different angles- from education for second-generation sex slaves in brothels to microfinance loans to 80-year-old grandmothers."
Rebbeca says that it is important for young people to follow a few simple guidelines to avoid putting themselves at risk: 
"1. Know your rights.  Knowledge is your first line of defence, and will empower you to protect yourself.
2. Check in with friends, and always make sure someone knows where you are.  Look out for your friends, too.  If you haven't heard from them, even a simple text message to check in can't hurt.  We now have such incredible social networks that allow us to be connected, even with people overseas when we're abroad.  In a lot of ways, this communication can help keep ourselves and our friends safe by checking in with friends and family.
3. Be aware.  Don't fall for promises that seem to good to be true: sugar daddies, great job offers in a new city, etc.  The majority of victims of trafficking were lured by some attractive offer that turned out to be a lie."
Even though Polina Rahman's death seems to have been a tragic accident, it was still shocking to realize that her body lay undiscovered not far from St George's Bay which is swarming with people both day and night in summer.  The horrible scenario made me wonder what we as a community should be doing to be more caring when  see young girls walking around on their own late at night, or when we see someone harassing young women.   Unfortunately, even on such a small island, we have started to adopt the "it's none of my business" attitude, when we witness an argument and even physical violence. No one wants to get involved because it might mean having to be called up as a witness in a time-consuming court case. There is also the reluctance to interfere for fear that the person helping might end up being attacked as well, as has happened in the past. 
Rebecca points out that Public Service Announcements can do a great deal towards encouraging more community spirit.
"There was a fantastic campaign by an NGO called Breakthough that addresses this, and I think their PSA ads are really worth sharing.  You can watch Mallika Dutt talk about this in her TEDx talk here  
The ads show how people in a community witness domestic abuse, and can choose to take action in subtle but powerful ways.
There's also a very important example from New York City where 38 neighbours ignored the murder of Kitty Genovese – a shocking case where everyone assumed someone else would report it, and no one did anything to help.  You can read about her case here.
We all have a responsibility to act; and inaction is in itself an action.  When we choose not to help, we are making a statement about who we are and the kind of world we want to live in.  Similarly, when we choose TO help, we are making a statement.  What kind of statement would you like to make?  What kind of a world do you want to live in?  Would you want someone else to take action if you were the one in trouble?
Personally, I think compassion is one of the most important traits we have in humanity; perhaps one that could use some more emphasis in our families, schools, and economies."
I also explain to Rebecca that, unfortunately, the prevalent male attitude towards foreign women in this country tends to be that they are "easy"; that they are all coming here to have a good time and are looking for casual sex.  We have had cases of violence linked to a sexual encounter gone wrong, especially if a girl has had too much to drink.  
She says that this argument reminds her of the following  "conversation"  a friend shared on Facebook…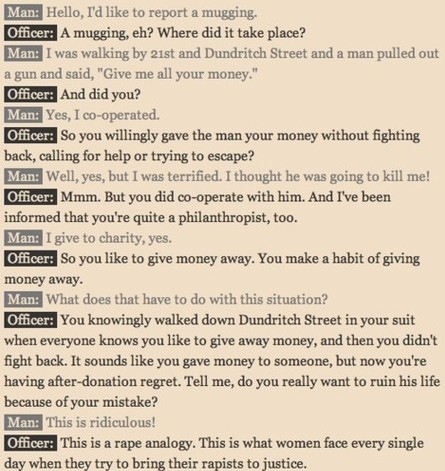 *You can watch the documentaries online at: www.theparadigmshiftproject.org