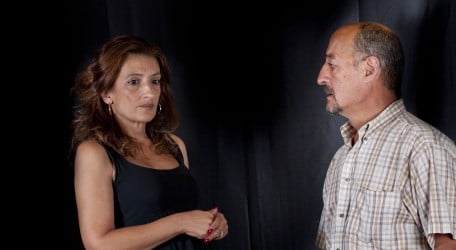 Playwright Edward Bond was instrumental in ending censorship in UK with his controversial play Saved, so it is not too surprising that Adrian Buckle, one of the loudest voices against theatrical censorship in Malta, feels an affinity towards him
"In 2001, Edward Bond came to Malta to conduct some workshops.  I attended the first and was so taken in by this gentleman that I attended all of them.  I read some of his plays and was intrigued.  It was a time when I was still looking for my theatre voice.  I still did not know what I wanted to do in theatre but these plays and these workshops helped me find my voice. I realised and wanted to do this kind of theatre and that is why I founded Unifaun, so I could work on scripts like these.  I have since went on to produce McDonagh, Ravenhill and Kane, among other playwrights, but never quite found the courage to do Bond.  Maybe it was because I never thought I had the right director.  A couple of years ago I met Chris Cooper, who is a Bond specialist and we immediately agreed to do a Bond project together.  In doing Bond I am finally doing a play by the man who so inspired me in my theatre life.  Bond brought an end to theatre censorship in the UK with Saved.  With his influence over me he also brought an end to theatre censorship in Malta."
This play pushes the envelope when it comes to the theme of violence by ordinary people who suddenly explode over what seem to be trivial reasons…do you think this theme will strike a chord with audiences?
"Violence in Bond plays is not trivial; it is there to show what society is like.  In OLLY'S PRISON the violence is there to show what society does to individuals.  I think that audiences will understand this as Maltese audiences are used to watching violence in movies and on TV.  This time the violence is not trivial, choreographed or gratuitous.  It is there to show how a society obsessed with punishment turns normal characters into violent ones.  In OLLY'S PRISON, violence is portrayed as the negative phenomenon it is."
What is the difference for you between gratuitous violence and violence which needs to be shown for the sake of the play's impact?
"Violence as portrayed in Bond plays serves a purpose.  It helps us recognise violent aspects in our society and condemn it.  It is not glorified or glamorised.  This is why it strikes a raw nerve.  Bond plays are not out to shock.  They want instead to shake the audience into understanding this phenomenon to condemn it.  Many say that Bond plays are bleak but I believe that the major hope that Bond plays produce is the audience itself, because of this frank portrayal of violence."
What are some of the biggest challenges in this script for the actors you have cast? What qualities were you looking for?
"Bondian theatre moves away from traditional theatre.  An actor cannot rely on his Grotowski or his Stanislavski to portray a Bond play.  That is why most Maltese directors are inadequate at directing Bond.  It is a challenge for the actors because they have to use a completely new technique for acting.  This is why we had workshops in May. Then there are the challenges of staging because at one point the whole set has to be destroyed.  How do you do that?  Come and watch."
On another note, what are the latest developments regarding "Stitching"? Will it be produced?
" The matter has still not been definitively decided by the courts, and before the matter is conclusively decided we will keep all our options open as to the staging of Stitching.  From the start, Unifaun has maintained that Stitching is a valid play that should be performed for Maltese audiences, and we will keep on working towards that aim to ensure that it is fulfilled."
Olly's Prison will be performed at St James Cavalier on 8, 9, 15, 16, 17, 22, 23, 24 March 2013
Directed by Chris Cooper, the cast features Manuel Cauchi, Simone Spiteri, Pia Zammit, Joe Zammit, Victor Debono, David Persiva, Philip Leone Ganado, Colin FItz, Jo Fuller, Steve Hili, Leander Schembri, Francis Nwobodo, Luke Caruana, James Piscopo, Clayton Schembri.
Supported by Malta Arts Fund, National Lotteries Good Causes Fund and British Council.