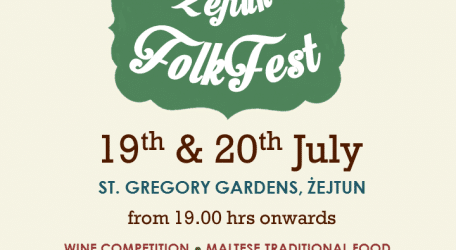 The first edition of Żejtun FolkFest is set to take place on Friday 19 July and Saturday 20July at St. Gregory Gardens, Żejtun from 7.00 p.m. onwards in aid of Fondazzjoni Nazareth.
Fondazzjoni Nazareth is a voluntary organisation that provides support and shelter for persons with disability in three different homes at Żejtun. The foundation from time to time organise different activities for fundraising for the daily needs of these three homes that cater for persons with different forms of needs.
On Friday there will be a wine competition that is going to be consisted in three categories; Red Dry, White Dry and Rosé. Moreover, there will be għana from Żeppi l-Kelba and friends, American car show, Maltese traditional food and wine tasting stalls, parchment and lace exhibition, folk and various local artists such as Renato, Odessa Green, Karma Skies, Cryptic Street, Romina Mamo, Ta' Seguna Folk Group and so much more.
On Saturday morning there will be a treasure hunt around the centre of Żejtun. Then on Saturday evening the event will continue by a Mini car show, Maltese traditional food and wine tasting stalls, lace exhibition, folk and modern dance and various local artists such as Greenfields, Christabelle Borg, Adie, Bibita, Malcolm Pisani, Neville Refalo, Skarlet, Gabriel Cassar from the band of Gianluca Bezzina and more accompanied by dance schools such as Sharp-A-Dancers, Look Stars Dancers, Wild Strength Dancers and Shake Dancers.
The two days activities will be include games, bouncing castle, Chu Chu train, open market, food and drinks and much more. The entrance for both days is free.
Visit www.facebook.com/zejtunfolkfest for the latest news and information.