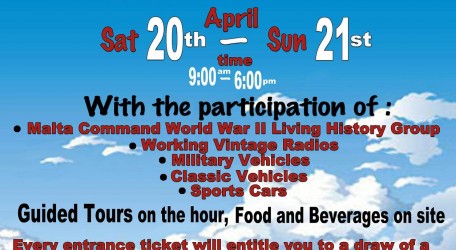 This weekend the Malta Aviation Museum is hosting Wings & Wheels, the first event of its kind in Malta where the public will be able to view the museum's impressive collection of aircraft and memorabilia alongside various attractions on four wheels.
The Malta Command World War II Living History Group of re-enactors will also be taking part in the activities on Saturday and Sunday, 20 and 21 April, 2013, from 9 a.m. to 6 p.m., alongside working vintage radios, classic and military vehicles, the Alfa Club and other sports cars. For Formula 1 fans, an attraction will be a replica Scuderia Toro Rosso Ferrari race car.
Tomorrow (Friday) a small aircraft and a sports car will be displayed in St John's Square, Valletta, to attract people to Ta' Qali for the weekend.
There will be guided tours of the museum on the hour and food and beverage on site.
Every entrance ticket of €4 (children under 12 are admitted free) will entitle visitors to enter a draw with a trial flight around the Maltese islands with the Island Microlight Club as the prize.
Ray Polidano, Director General of the Malta Aviation Museum Foundation, said Wings & Wheels is not a one-off but the first of a series of such events with another big activity being planned at Ta' Qali later this year with the participation of flying aircraft and many other car clubs.
Membership of the MAMF costs €12 per annum, enabling members to visit the museum whenever they wish to follow the restoration programme on each aircraft displayed in its collection. For more information visit www.maltaaviationmuseum.com or find the MaltaAviationMuseum on Facebook.