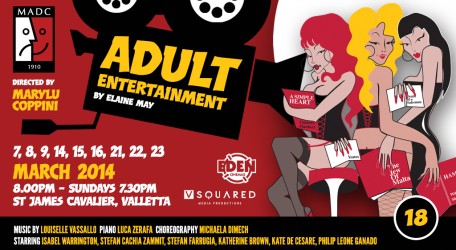 MADC is staging "Adult Entertainment" by Elaine May and directed by MaryLu Coppini at St James Cavalier. This comedy revolves around a series of phone-in shows on a public access TV hosted by Heidi-Ho, in which a quartet of porn stars that includes Vixen Fox, Jimbo and Frosty Moons responds to phone calls.
However a cloud hangs over the porn queen's usually cheery cable TV show as they are mourning the passing of their employer and mentor, a legendary porn filmmaker, with his brother Guy in attendance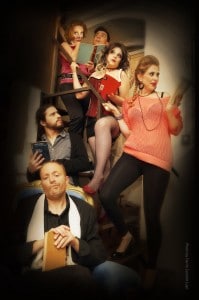 Tired of working for others, this motley group of adult video veterans decides to write and shoot their own extravaganza, as an 'artistic' porn film!
The script doesn't live up to their expectations so Heidi brings in Gerry her TV cameraman, a 'Yalie' who spouts intellectual claptrap who insists that they read the classics to get into the spirit.
Before long he's introduced into the script a line from Marlowe's "The Jew of Malta" and has everyone reading the classics from Flaubert to Wilder to "Death of a Salesman" and giving them acting assignments in scenes from a Yeats adaptation and "The Beggar's Opera."
Unexpected ideas develop as the hilarity escalates bringing the play to a raucous and riotous conclusion, as non-intellectuals are exposed to literature!
Respected satirist, actress, film director, screenwriter and comedienne Elaine May brings together a bawdy comedy with serious meanings aimed at the mature mind.
Starring in this comedy are: – Isabel Warrington, Stefan Cachia Zammit, Stefan Farrugia, Kate de Cesare, Katherine Brown and Philip Leone Ganado. Live music is composed by Louiselle Vassallo is played by Luca Zerafa. Choreography is by Michela Dimech.
Performances at St James Cavalier are on: 7th, 8th, 9th-14th 15th 16th -21st, 22nd, 23rd March 2014. Shows start at 8pm except on Sundays which are at 7.30pm.
Ticket bookings: www.sjcav.org Email: [email protected] Telephone: 21223200, for further information visit: www.madc.com.mt.
WIN A TICKET FOR THE PLAY BY ANSWERING THIS QUESTION:
In the text we state that Elaine May who wrote the play was not only a playwright/dramatist but also a ___________?
send your reply to Alan Meadows at [email protected]