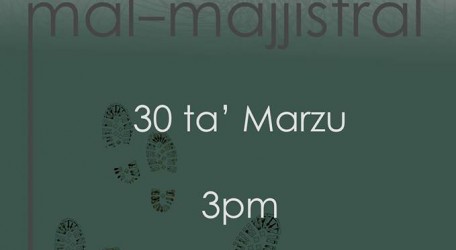 L-Għaqda tal-Malti – Università in collaboration with the Majjistral Park is organizing a walk along the northwest area: mixja mal-majjistral.
The 6km walk will be taking place on the 30th of March from 3pm till 6pm, on top of the Majjiesa cliffs, whilst enjoying breathtaking views of Malta's and Gozo's northwest coasts.  It is a leisure walk during which Annalise Falzon will be providing us with information about the plants growing on site whilst also discussing the site's geology in Maltese. The walk starts and finishes at Golden Bay (the Mixquqa Bay).
All those willing to attend are advised to wear clothes and shoes suitable for walking.  Those interested should send an email on [email protected] The Għaqda members are strongly encouraged not to miss out on this event. A €3 donation will be reserved for the Għaqda whilst the Għaqda will be helping the Park with the translation of its website.
The following is the activity on Facebook: www.facebook.com/events/206162956248970.
The National Park of the Majjistral was inauguratred in 2007 and includes the coastal area from  the Mixquqa Sandstone to the Prajjet. A large part of this stretch of land forms part of the Natura 2000's  European network  of protected sites. The Park is managed by the Heritage Parks Federation consisting of 3 non-governmental organizations: Din l-Art Ħelwa, Gaia Foundation, Fondazzjoni Natura (Malta). The park's goal is to safeguard the site's natural and cultural environment whilst also serving as an area for environmental studies, recreation and fitness excercises.  More information is available here:  www.majjistral.org  and www.facebook.com/groups/majjistral .