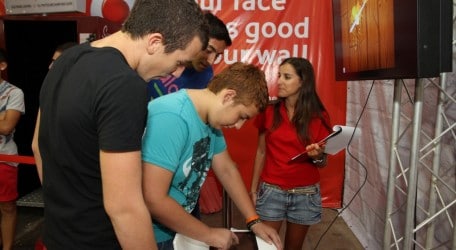 Vodafone, the main sponsor of the 32nd edition of the Farsons Great Beer Festival once again set up a large stand purposely built on the grounds of the Ta' Qali Park. Vodafone's stand included fun activities for  the whole family.
The Vodafone stand was equipped with the newest smartphones available on the market, the latest Vodafone offers and the famous, sought after, photo booth where visitors could take humorous and fun photos on the spot. Vodafone representatives were also on hand, assisting customers with all the required knowhow and providing them with the necessary information on how to take advantage of the full potential their Smartphones can offer.
Using the latest iPad and the iPhone 4S an array of popular games were being played on these high-tech devices.  Game fanatics who visited the stand tried their luck with popular games such as Angry Birds, Fruit Ninja and Temple Run. The highest scorer for each game was declared winner on the night. By Saturday evening 27 top scorers were declared winners, taking home the new Vodafone Smart II as a prize.  Three more winners were announced on Sunday totaling 30 top scorers during the Beer Festival.
"Thousands of people visited the Vodafone stand during the Farsons Beer Festival with many of them taking home various Vodafone Summer merchandise," said Monique Brincau from Vodafone Malta. "The interactive games we had on the Vodafone stand also proved to be a huge hit amongst all, even those who do not consider themselves avid gamers. It was truly amazing how much these games gained in popularity. The Farsons Beer Festival also showed everyone how our smartphones can double up as mini game consoles and provide fun for all" she concluded.
Vodafone also launched an interactive website tailor made for the beer festival. Through the website, Vodafone made sure everyone was being kept updated on what was happening . The website also provided information about the games that were being played on the Vodafone Stand and information about the winners.
There was also the opportunity to watch what was happening through a live link.