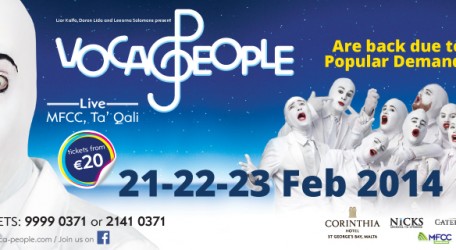 Buy your Voca People tickets before end of August 2013 for a chance to WIN your money back. 10 lucky winners will be drawn.
The Voca People are coming back to Malta due to popular demand. They will perform at MFCC, Ta'Qali on the 21st, 22nd and 23rd of February 2014. Tickets from € 20.00 only.
An evening of total excitement, music of all times, comedy and audience participation. So get your tickets today!
 VOCA PEOPLE – "A unique show for all the family" – Le Parisien
To buy your tickets:
Call the ticket hotline numbers: 9999 0371 or 2141 0371
or buy your tickets online at
http://www.ticketline.com.mt/bookings/Shows.aspx?ProductionId=103