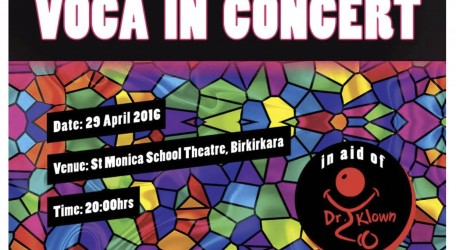 Voca Choir is a group of fun-loving, professionally-minded singers and musicians, who share a love for song. Since its inception, Voca Choir have made it their primary mission to not be just any "choir", but a choir with a difference. Today, Voca Choir's repertoire ranges from spiritual and worship music, to folk, musicals and also contemporary pop, although Voca Choir's distinguishing forte is Gospel music. This makes them one of the top Maltese Gospel Choirs performing both locally and overseas.
This year, Voca Choir have joined forces with MSV Life to organise a fun- packed musical concert on Friday 29th April 2016, at Santa Monica School Theatre, Fleur-de-lys, B'Kara in aid of Dr Klown. Voca Choir will be performing a mix of musical styles from its vast repertoire, namely pop songs and gospel music as well as some classical pieces – including covers from Prince of Egypt, Celine Dion, Cold play and many more.
Join us for this musical evening by booking tickets on www.ooii.com.mt.