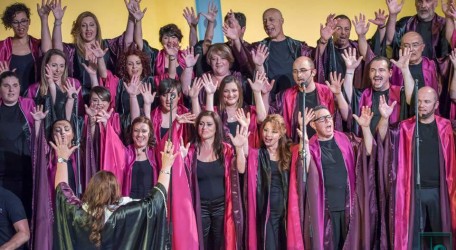 VOCA is a non-profit making voluntary organization (VO/1317), founded in 2010. VOCA are a group of fun loving professionally minded singers and musicians, who share a love for song. Since its inception VOCA have made it their primary mission to be not just a 'choir', but a choir with a difference. Today VOCA's repertoire ranges from spiritual and worship music, to musicals, to contemporary pop music, although, VOCA's distinguishing forte is Gospel music making them one of Malta's finest choral ensembles. The choir's mandate is to make a diversity of choral music, performed to the highest standards and accessible to a growing audience.


The majority of VOCA's trained members are seasoned musicians, choristers and soloists with extensive experience in the field. This clearly reflects in the distinguishable tight harmonies, dynamic sounds and soulful interpretations making every VOCA performance a joyous musical roller coaster.
The choir has performed in a wide range of events ranging from weddings to small and large-scale concerts. VOCA's vast repertoire includes various styles, namely pop music, Gospel, Classical and well-known pieces from Musicals, and includes songs in various languages including English, Maltese, Italian, Spanish and Latin. Each year the choir prepares new work, including some original pieces.
VOCA on a regular basis perform in various churches to promote its music and also present a concert every two years in order to raise funds for other philanthropic voluntary organisations. It has also become an annual request to animate mass in the presence of the President of Malta in events such as the annual Fun Run in aid of the Malta Community Chest Fund.
Throughout the six years from its establishment, the VOCA choir has managed to maintain regular rehearsal sessions for its members together with various vocal training workshops. It has assisted in raising funds for various entities including Dr. Klown, Beating Hearts Malta and the Salesians of Don Bosco amongst others.
VOCA choir aims to continue bringing joy to its audience through gospel singing, raise funds for the less fortunate and promote both the choir's talents and our islands culture beyond our shores.

VOCA in Brussels

VOCA choir has been invited by the INTERKULTUR Foundation to the event of ON STAGE in Brussels, Belgium from the 7-10th of September. 30 members of the choir will be attending the event performing some of its repertoire including songs in the Maltese language, and original songs composed by our Assistant Choral Director Stephen Ferrito. The Choir will also participate in a workshop with choral conductor Dieter Stealens who will introduce the musical tradition of the region and together with other choirs hailing from Denmark, Netherlands and Belgium, will work on a few new pieces to be performed in the final concert. Performances will be held in the main squares of Brussels during a city tour, and a final concert and Sunday mass being performed at the National Basilica of the Sacred Heart of Koekelberg, Brussel's famous landmark.
This project is part financed by the Arts Council Malta through the Cultural Export Fund.