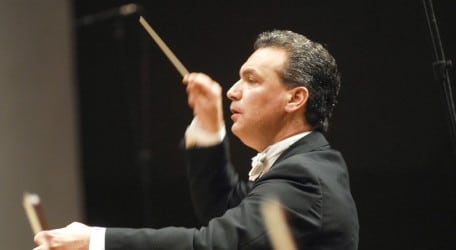 Antonio Vivaldi's The Four Seasons will feature internationally acclaimed Maltese violinist Carmine Lauri under the direction of Michael Laus (pictured above) on Easter Sunday, 27 March at St Publius Church in Floriana at 19:30hrs. This special performance is being held in aid of brain research and organised by the University of Malta Research Trust (RIDT) in collaboration with the Malta Neuroscience Network, the Malta Chamber of Scientists, the Richmond Foundation and Malta Café Scientifique.
A 14-piece string ensemble made up of leading musicians residing in Malta will support Carmine Lauri with Michael Laus at the helm on the harpsichord.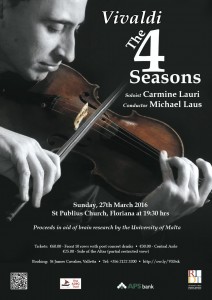 Undoubtedly, The Four Seasons is Vivaldi's most popular work. Consisting of four violin concertos, each gives a musical expression to a season of the year. Unusually for the time, Vivaldi published the concerti with accompanying poems (possibly written by Vivaldi himself) that explained what it was about those seasons that his music was intended to evoke.
Vivaldi's The Four Seasons' concert is the highlight of the brain awareness campaign launched by Malta Neuroscience Network at the University of Malta. The campaign aims to raise awareness on various brain disorders, promote brain research, and to raise funds for research sustainability.
Professor Giuseppe Di Giovanni from the Faculty of Medicine and Surgery at the University of Malta and coordinator of the Malta Neuroscience Network said: "There are many forms of brain disorders – such as brain tumors, Alzheimer's and Parkinsons' diseases, ALS, epilepsy, multiple sclerosis, learning disorders, depression and many more.
"As much as we can say that a lot of research has been carried out, both internationally and locally, the truth is that we still have not managed to totally eradicate the social stigma, and we are still not in a position to provide solutions to a number of disorders, even though treatments have improved extensively," said Prof Di Giovanni.
Vivaldi's The Four Seasons is supported by APS Bank and the ADRC Trust. All proceeds from the concert will go towards research in brain disorders at the University of Malta through RIDT.
Wilfred Kenely, RIDT Chief Executive, said: "Mental health touches many families in Malta. Despite the advances in science and improved treatment, there is still a lot to be done. These funds will enable us to conduct brain research projects in various disciplines. Such projects can lead to discoveries and improve the lives of patients."
The Research Trust has been established in 2011 as a joint initiative between the University of Malta and the Government of Malta and has the objective of raising funds to sustain and bolster research activity within the various departments of the university. www.ridt.eu
Entrance tickets at €60, €30 and €25 may be booked from St James Cavalier on tel +356 21223200 or online: