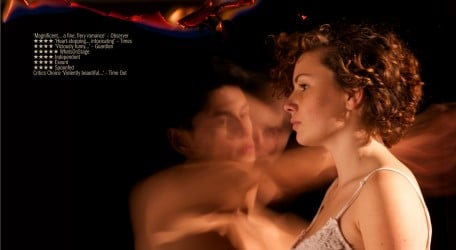 When Unifaun produced Philip Ridley's MERCURY FUR back in 2008, it sent ripples of shock throughout the audiences that came to watch.  The censors had a fit because of the portrayed cruelty to an underaged boy featured in the play.  However, MERCURY FUR is also considered by many as a landmark of theatre portrayed in Malta.  Many, especially the young, started appreciating theatre only after seeing MERCURY FUR and still thirst for something similar.  It is no coincidence that in the Theatre Roundup of the year, MERCURY FUR was voted most outstanding production.
Now Unifaun are teaming up with Philip Ridley again to produce one of his latest plays – TENDER NAPALM.  Described by the British Press as a "Magnificent . . . Fine, fiery romance", as a "theatre firecracker", as "Viciously funny", as "one of the best plays of the year", as "heart-stopping" and as "violently beautiful . . . unforgettable", TENDER NAPALM in Malta promises to be another hit that will equally entrance and shock audiences who go watch it.
TENDER NAPALM is an abstract piece about a young couple struggling to relive their love after an unnamed trauma.  They tell stories, both fantastical and real, and try to figure where their relationship stands.  Producer Adrian Buckle describes it as a very physical piece with poetic language that is equally funny and heart wrenching at the same time.
Directing the piece is Toni Attard, one of Malta's most creative directors.  The play stars Bettina Paris as the WOMAN and Rommel Grech as the MAN.  "Choosing the director was a no brainer," Buckle argues.  "Toni's vision is just what this play needs.  Choosing the actors was also relatively easy.  Bettina Paris is a very talented actor and Rommel, although more physical, is equally promising.  We decided to take a gamble using unknown actors for this.  However, we are sure that it is a gamble that will pay off as both actors are top notch and are creating some wonderful work."  Also helping out with this production are Sandra Mifsud on choreography and Lizzie Eldridge on direction.
TENDER NAPLM will be staged at St James Cavalier on the 24, 25, 26, 31 January and 1, 2 February 2014 at 8pm.  Booking is open from www.sjcav.org or Tel No. 21223216.  Tickets are at €17 except for First Night which is being sold at €15.