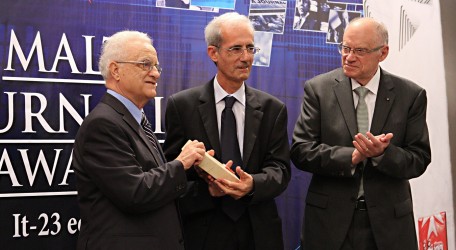 The Tumas Fenech Foundation for Education in Journalism (FTFEĠ) sponsored the 16th Gold Award, presented during the 23rd Malta Journalist Awards, held earlier this month.
President Emeritus Edward Fenech Adami, who chaired the judging panel for the Gold Award, which was also composed of Anna Bonanno and Laurence Grech, gave the motivation praising the latest recipient of the Gold Award, John Inguanez (pictured above).
Mr Inguanez spent the first decade of his career in print journalism before moving to the national broadcasting station where he held several senior positions, including Head of News, Head of Radio and Head of Archiving, over a period of 30 years.
As a youth he attended a Thomson Foundation Senior Editors' Course, ending top of his class, and he has continued even in retirement to conduct research, translate books and write material for TV.
FTFEĠ Chairman, President Emeritus Ugo Mifsud Bonnici praised the attributes of Mr Inguanez: "I know John as a highly professional person, who is low-key but hard working and highly effective, earning the respect of his colleagues, peers and all those who have worked with him. This is a highly merited award since John has shown himself to be flexible and also an agent of change throughout his career."
Apart from receiving the Gold Award trophy, Mr Inguanez was also presented a copy of the latest publication of the FTFEĠ, Il-Gross – Il-kontribut letterarju, on the father of President Emeritus Mifsud Bonnici and his brother, Chief Justice Emeritus Giuseppe Mifsud Bonnici.
The other recipients of the Gold Award, first awarded in 1998, were: Fr Joe Borg, Anton Cassar, Frank Attard, J.G. Vassallo, Anthony Montanaro, John Manduca, Charles Grech Orr, Paul Carachi, Paul Saliba, Lino Cassar (who passed away last year), Dr Joe Micallef Stafrace, Lino Spiteri, Victor Aquilina, Michael Schiavone and John Micallef (Roamer).
John Inguanez's career
Mr Ingunaez  started his career in journalism as a proof reader with the newspaper Il-Ħaddiem in July, 1964, where he continued advancing in his journalistic career up to News Editor. John Inguanez was trained under Godfrey Grima, who was the News Editor.
It was at this stage that he was chose to attend a Senior Editors' Course at the Thomson Foundation, where he was placed first in class. Among the important events Inguanez reported during his work with this newspaper there were the celebrations of Malta's Independence.
In 1970, John Inguanez passed from Il-Ħaddiem to Il-Ħajja, when this took its place. Here he was promoted to News Editor and, later, Senior News Editor. He was instrumental in helping the employees to adapt to new working practices, especially when the printing press moved from the Catholic Institute to the Media Centre in Blata l-Bajda. Here the work of Inguanez became more administrative.
In 1974 John Inguanez applied and was accepted as a News Producer in the News Section of Rediffusion/MTV, where he worked under Harold Scorey. Inguanez continued to advance in the Maltese television station's News Section until in 1987 he was appointed Assistant Head of News, and in 1994 he was appointed Head of Programmes of Radio Malta.
From here he returned to the Newsroom as Head of Section towards the end of 1995 and he led the Section during its transfer to the new building equipped with a studio and new facilities in 1986. Here he contributed greatly in the implementation of working practices so that the Section could work from 6 a.m. to 11 p.m. without interruption.
In 1995, Inguanez was appointed Senior Manager (News and Radio) at PBS to co-ordinate the News and Radio sections.
He was entrusted with the responsibility for TVM's Archives in 1998 and was instrumental in continuing the archiving. For the first time all copies of the news bulletins started being retained, something that was not done up to that time since they only used to keep the rushes.
In 1999 he was appointed Head of Television Programmes until 2004 when, after the restructuring, he was transferred to the Employment & Training Corporation as a Communications Co-ordinator, where he continued with his semi-journalistic work. During this time (2004-2005) he produced a number of information programmes on behalf of the ETC.
During the time he spent in the Newsroom of the television station he led and co-ordinated work, even if he was not the Head, during several main events in Malta, among them Republic Day, Freedom Day, aircraft hijacks that arrived in Malta at the time and the Bush-Gorbachev Summit.
He wrote and produced several segments in the field of journalism for the programme Malta u l-Hinn Minnha, as well as a documentary series on the University and its work.
On his part, John Inguanez was the first person to broadcast a news report via satellite. This was in 1988 during the visit Prime Minister Eddie Fenech Adami paid to the United States of America.
He was a member of the Institute of Broadcasters and co-ordinated a training course in TV journalism. He was a member of the Board appointed by the IoB and The Malta Press Club (at the time) to formulate the first Code of Journalistic Ethics. Other members of the board included Alfred Musu and Anthony Montanaro.
Apart from working in journalism for local organisations, John Inguanez was also the local correspondent of Agence France Press between 1967 and 2009, more than 40 years. He was praised by AFP's management when he retired.
He covered several important and less important events in Malta's history for AFP and was also a freelancer with several foreign newspapers over the years.
After he retired he wrote the series Malta Ġrajjietha for TVM, with research on events in Malta and he is currently researching and writing Kenn il-Baħħara, a series of documentaries for TVM on GrandHarbour and its environs.
John Inguanez has translated three novels, Scarlet Pimpernel, The Big Story and Catalina, and he also wrote the publication of his research in Ġrajjiet Malta, which was published in the year 2000.