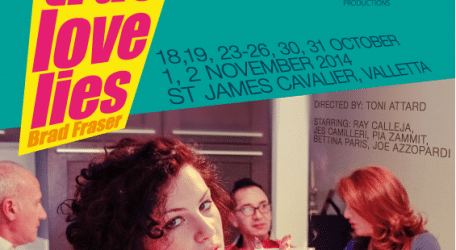 EARLY BIRD SPECIAL OFFER ON TICKETS.
Tickets purchased by 13 September 2014 will benefit from a special reduction. 
Buy €18 tickets for just  €15 and €12 tickets for just €10!
NOTE: Offer is valid only on tickets purchased by the 13 September 2014
From the team that brought you Philip Ridley's TENDER NAPALM, and from top Canadian playwright Brad Fraser, comes another hit show.
Madison is looking for a job. She applies for a position in a restaurant only to discover that the owner, David, was in a sexual relationship with her father when the two men were younger.
Sparking a series of further revelations, the sudden reappearance of David exposes suppressed emotions and desires in everyone and the family must renegotiate their relationships with each other and, ultimately, redefine their family. In sharp, non-stop dialogue, Brad Fraser brings each of his characters to life with a depth, humour, and emotion that tears open the nuclear family and finds the heart that is often lost and forgotten.
Written by Brad Fraser, directed by Toni Attard and starring a stellar cast, this production will have you questioning the true meaning of love long after the curtain comes down.
Fraser's play is a brilliantly cutting dissection of a supposedly ideal nuclear family founded on a tissue of deceit. But it is notable for the depiction of a post-Aids generation for whom sexuality has become an increasingly fluid concept. Madison's fascination for David is founded on the Freudian minefield of having sex with a man who penetrated her father. Though he's resistant at first, she assures him that as far as her peers are concerned: "Gay is so over – it doesn't mean anything any more. It's like Negro or Jewess. It's all just sex." – The Guardian
Cast: Ray Calleja, Jes Camilleri, Pia Zammit, Joe Azzopardi, Bettina Paris
Dates: 18, 19, 23, 24, 25, 26, 30, 31 October, 1, 2 November 2014 at 8pm
Ticket Prices: €18, Concessions: €15, 23 and 30 October shows : €12