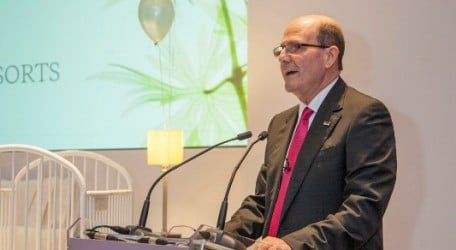 The Westin Dragonara Resort recently hosted a successful Travel Open House Event launching the Hotel's newly refurbished Conference Centre. Invitees, namely the Resort`s partners from the travel industry were shown around the new facility as well as the Hotel. Guests were also given insightful presentations about Westin's brand pillars whilst enjoying a vast selection of cocktails and canapés which included selections of Westin's famous SuperFoodsRx philosophy.
General Manager Michael Camilleri Kamsky (pictured above) welcomed all guests personally and took the opportunity to thank the Board of Directors for their support and ongoing investment throughout the years.
Director of Sales & Marketing Edward Bonello outlined Westin`s brand pillars whilst speaking about the service differentiators Westin properties are known for. `At Westin`, he said 'we are committed to make guests feel better when they are leaving than they had arrived. With this mission in mind we are delivering the best service to our clients every day'.
The conference centre facilities at The Westin Dragonara Resort measuring over 1400 square metres of meeting space have just been fully renovated. New features now include a brand new facility throughout, new high resolution digital signage, ambient lightening as well as the introduction of Tangent™ At Westin, a revolutionary workspace concept by Westin.
More information about The Westin Dragonara Resort, Malta can be found on www.westindragonaramalta.com