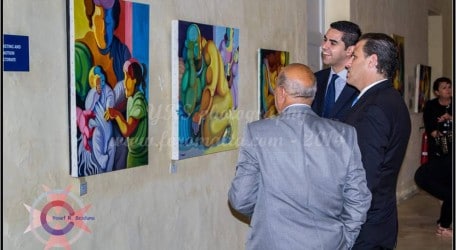 Photo by Yosef Scicluna
The exhibition entitled 'Time Lapse' is currently being presented by the contemporary artist Twanny Darmanin who is a well known name in the Maltese art scene. The colorful visual display is made up of around 60 paintings which vary in size. The art enlightens the exhibition area with the artist's distinctive style of painting which is easily identified from other artists. Bright colors and dynamic curves with a typical hard edge, cylindrical and spherical forms show that Twanny is a keen observer of nature and his works are a reference of life, religion and humanity. A clear example of his style is shown by a painting of an Old Lady with two cats next to her feet coddling, named 'Faithful Friend'. Here Twanny is showing a solitary old lady bending down addressing her pets, the only friends left in her life, as if they are her children. He creates a sense of nostalgia for that long passed motherhood, carrying and loving her young. Yet on other side of the coin, we find another painting of an old lady playing with her grandson – joyfully raising up the child standing on her feet. The painting echoes a sense of satisfaction and fulfillment as an expression of life.
This positive and negative approach is yet again presented with two boats named ' By Gone Days' The painting shows these boats being left at the side with many unused items hanging out – ropes, pieces of old cloth ( like a human organs) they are left to make way for the new fiberglass boats which are lighter and more practical but without character. The craftsmen once used to take pride in creating these marvelous boats –  by chipping, cutting and bending organic wood to shape and form our traditional Maltese boat, with its bright red, yellow and blue colors that used to please the eye. Yet this is now a dying trend.
The artist wanted to enrich this exhibition by showing an evolution of the creation of ideas which had been evolving for quite some time behind closed doors. As such he is also exhibiting the original sketches next to the final paintings, which are presented in a row layout to keep the original state of the design.
This exhibition combines a dynamic combination of tension between the mind and soul, the beginning and the end, the thought and execution, the pregnancy and the birth of the artist's way of thinking.This personal show by Twanny Darmanin is another important occasion not just for the artist but also for all those who want to enjoy an aesthetic experience and appreciate the imaginative Vision of the creator.
Time Lapse, was inaugurated by Dr Ian Borg Parliamentary Secretary for the EU Presidency 2017 and EU funds, and introduced by Mr. George Glanville, curator and Art critic.
The Exhibition is running at Auberge D'Italie, Valletta – public viewing until 25th May 2014 office hours.
For more information regarding this exhibition contact :
21523774 / 99523774 / 99801751  or email: [email protected]
Or visit his Facebook page or website www.twannydarmanin.com