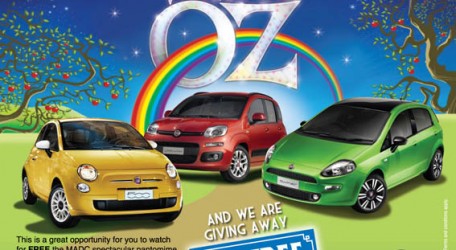 FIAT Malta's Facebook Page is giving out 64 free tickets to the Wizard of Oz –  this year's much anticipated MADC Christmas Pantomime at the MFCC in Ta' Qali.
Participation is ridiculously easy! Log in to facebook, find Fiat Malta's Facebook Page, 'like' it and send an e-mail on [email protected]  with the subject 'Wizard of Oz Competition' with a few words that best say why you should be one of the lucky winners. The most fun and original replies will earn their respective winners two tickets each, one for them and one for their preferred guest!
"Everyone will agree that MADCs Christmas Pantomime is one of the most spectacular and entertaining shows in Malta's theatrical calendar as well as an event that is every year attended by thousands of children and their families. It is one of the main family events that happen over the Christmas and New Year season. We also consider FIAT as a brand that is fun, entertaining and ideal for all the family which is why we wanted to close the year by associating ourselves with the Christmas panto," said Francesca Mamo, Managing Director of UCIM Co Ltd, owners and importers of the FIAT brand in Malta.
"I don't want to reveal too much about this year's show, but I can honestly say that we've managed to raise the bar even further with the Wizard of Oz," says Alan Montanaro, script writer and dame extraordinare. "We are delighted to have FIAT accompanying us on our adventures along the yellow brick road to the Emerald City of Oz, and we promise that together, this year's Panto will be unforgettable . So….narakom hemm l-aħwa!"
The 32 winners of this exciting competition will start being announced as from the 17 December onwards when the winning names and their respective entries will be posted everyday on the Fiat Malta Facebook Page.