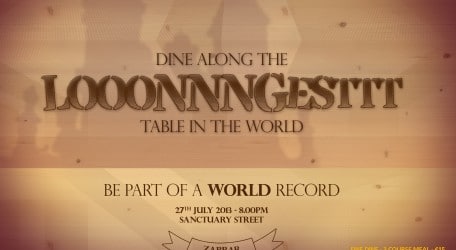 Fresh from the success of the Malta International Food Festival, the Haz-Zabbar Local Council together with its Culture Action Team will be organising yet another culinary feast at Zabbar, in preparation for the Feast of Our Lady of Graces.
A 400 meter road leading to the Sanctuary of Our Lady of Grace, Sanctuary Street boosts the unique features and aesthetic characteristics of Citta Hompesch, Zabbar. On Saturday 27th July 2013 the road will host a 400 meter table around which 1200 people will dine during this unique activity set to achieve a world's record.
To give it the local touch, all the organisations at Zabbar have been approached to be a part of this event and are being offered a profit share from all ticket sales for the good use in their running expenses of nation-wide renowned Feast in September, others have decided to offer their share to local charity organisations.
Those present will be treated to a lavish meal, whilst dining in a great atmosphere as the street will be decorated with decorative lighting purposely set up for this event.
In a brief statement, Mayor Quinton Scerri explained that the local council is committed to its project plan to regenerate the community, this activity along with others shall lead us to achieve our targets. "On Saturday 27th July we shall once again witness a merging of the leading clubs in Zabbar aiming to reach a world record. I am convinced that we are leading the path towards a new era; a city which offers quite environment and harmony with unique cultural characteristics"
Dine Along the World's Longest Table is going to be held on the 27th July at Sanctuary Street in Zabbar. Those interested in attending should get in touch with the Action Team by sending an email on [email protected] or by visiting the Facebook Page of the event "Longest Table – Zabbar".