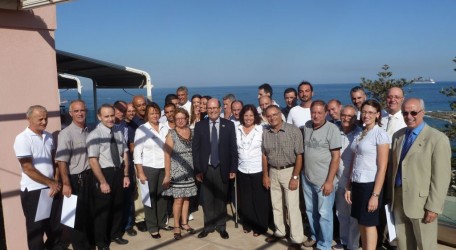 Pictured above: The associates who have been working with the Westin Dragonara for 15 years together with General Manager Michael Kamsky
June 1997 was an important milestone for Westin Hotels and Resorts with the opening of the first Westin Hotel in Europe – the inauguration of The Westin Dragonara Resort in Malta.
The past 15 years have been a challenging and rewarding experience for The Westin Dragonara Resort, accommodating over 2 million guests including a number of very high profile figures from around the globe.  The Resort also hosted numerous successful conferences and events which have confidently carved our name on an international platform.
An event celebrating this milestone was organised in the resort's Executive Lounge to not only mark the 15 years of operation but to also commemorate associates who have been working at The Westin Dragonara for the past 15 years.  General Manager Michael Kamsky, thanked these associates for being loyal to their workplace for such a long time as well as offering guests a distinguished service at The Westin Malta.
Further information about the Westin Dragonara Resort can be found on www.westindragonaramalta.com